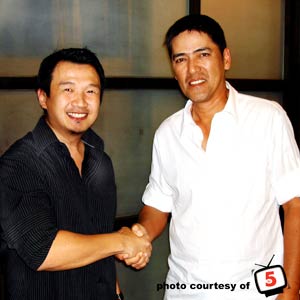 Senior vice president for brand management Jasper Evangelista (left) welcomes
Who Wants to be a Millionaire
host Vic Sotto to the TV5 family. This game show will air its pilot episode on May 23 (Saturday) at 6 pm.
Photo: Courtesy of TV5
With the success of Oscar favorite
Slumdog Millionaire
, TV5 responds to Filipinos' penchant for rags-to-riches and inspiring stories amidst the economic crisis by bringing back the game show that started all game shows on Philippine TV this summer. Starting
May 23
, Filipino contestants will have a chance to carry out the 'overnight millionaire' dream.
Who Wants to Be a Millionaire?
is considered the pioneer among game show franchises that were introduced in the country. In 2000, Christopher de Leon challenged contestants when he hosted the game show on IBC-13.
This year, entertainment master and respected producer, Vic Sotto, will host the game show on TV5 to pitch the famous buzz-phrase: "Is that your final answer?" Vic is actually a self-confessed avid viewer of the international game show, which he relates to have enjoyed tuning in to on his vacations in the United States.
Based on the original British format, contestants coming from all over the Philippines will compete to get on the "hot seat" to which the ascent to the seven-digit jackpot begins by answering 15 multiple-choice questions correctly.
Traditionally,
Who Wants to be a Millionaire?
is a general knowledge game show that sets off challenges, suspense, and a 1 Million cash prize. But when it premieres on TV5, the show escalates it to a P2,000,000 jackpot prize, turning the contestants eager and excited as the questions eventually turn into higher levels of difficulty.
Keeping loyal to its original format, contestants are provided "Lifelines" in the form of 'Ask the Audience' at which the audience key in their answers, '50/50' wherein two wrong answers are eliminated from the choices, and the 'Phone a Friend' option.
"We are thrilled to acquire the franchise to
Who Wants to be a Millionaire?
and even more pleased to have Vic Sotto hosting this huge game show. We are very happy to have him on board the TV5 family," says Jasper Evangelista, TV5 senior vice president for brand management.
Vic Sotto, on the other hand, expressed his excitement to be part of the game show and also be in the same channel as his son Oyo Sotto who stars in the suspense-comedy show
Midnight DJ
. Interestingly, Vic's hosting stint in
Who Wants to be a Millionaire?
also makes two of the TVJ triumvirate officially part of TV5, with Joey De Leon at the helm of all-time favorite
Wow Mali
.
Aspiring contestants should watch out for the
Who Wants to be a Millionaire?
mall auditions in designated SM Malls starting on May. Relive the millionaire dream and tune in to the pilot episode on
May 23
, Saturday, at 6 pm, only on TV5.