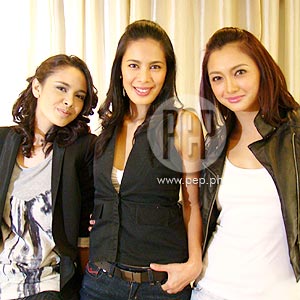 Us Girls
—hosted by (from left) Megan Young, Angel Aquino, and Iya Villania—recognizes the people who contributed greatly to the Philippine fashion industry this year. They will hold their first ever "
Us Girls
August Awards," which will take place on August 20, 2009 at the New Eastwood Mall in Libis, Quezon City. The four categories are Stylist of the Year, Make-up Artist of the Year, Most Fashionable, and Face of the Year.
Photo: Nerisa Almo
Us Girls hosts Iya Villania, Megan Young, and Angel Aquino will hail this year's style royalty during the very first "Us Girls August Awards." The event will take place on August 20 (Thursday) at the New Eastwood Mall in Libis, Quezon City.
During the press conference held last August 13, the hosts of Us Girls narrated how they came up with the August Awards.

Angel Aquino, one of the original hosts of the lifestyle magazine show, told the press: "We decided that it's about time that we recognize how much they [candidates] contributed to their own field."
"We made a short list of all the eligible candidates. Then, we were also consulted kung sino 'yong mga candidates that we think should be in a category. And then, the staff among themselves, and of course consulting also other people, credible people, we're able to make the final list of the candidates."
The show's creative team underwent a long process in choosing the nominees for each category, namely Stylist of the Year, Make-up Artist of the Year, Most Fashionable, and Face of the Year.
"Parang ang ginawa namin is sobrang daming lists of personalities from television and magazine, and other fields, tapos we presented it to them. Tapos yung mga names na gusto pa nilang [hosts] idagdag, 'O, you list ganyan, you list ganyan. Tapos out of that long list, yung staff merong short list. Based on their work, say for the Stylist of the Year: Gaano ba namin napapansin 'yong kanilang mga works sa mga magazine?"
Aside from that, they also consulted Chalk [magazine] of ABS-CBN publishing, since the show is associated with the company, for some awards. They basically worked with them especially for the Most Fashionable and Make-up Artist of the Year categories.
WHY AUGUST? There is a reason behind why the lifestyle magazine show decided to hold the awarding ceremony this month.
"Actually, when we were brainstorming about it, we really never thought of the word or month August. Parang we were just playing around with the online dictionary, and we bumped into the word August, tapos yun na. We found out na it means pala impressive or grandeur, so that's it."
"So we are going to award those people who have impressed us," Angel added.
This will mark the start of the annual event to be hosted by Us Girls, which has been on the air for the past three years.
"We plan to do this every year. So, hopefully with your help, we will be able to come with another one. And this is the first year. This is the first ever August Award of Us Girls so hopefully in years to come, the list also will be bigger, will be wider in scope. Saka magkakaroon siguro ng ibang categories," said Mariolle Alberto, Star Magic vice president.
They also made clear that they also considered artists from other TV stations.
"Hindi pumasok sa isip namin na porke't they're from the other side, hindi namin sila papasok sa list. It's just so happened that most of the people that appeal to the staff, parang medyo, ah, affiliated with this network."
Some of the nominees for Face of the Year are Claudine Barretto, Kim Chiu, Anne Curtis, Carla Abellana, Isabelle Daza, Nikki Gil, Kristine Hermosa, Angel Locsin, Cristine Reyes, and Maja Salvador.

Anne [Curtis] and Isabelle [Daza] vie again for the Most Fashionable award against fellow head turners Nicole Anderson, Pauline Juan, Divine Lee, Bea Soriano, Bianca Valerio, Georgina Wilson, and celebrities Denise Laurel, Marie Lozano, and Camille Villar.