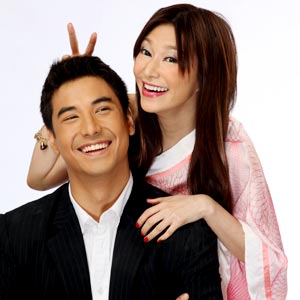 Rufa Mae Quinto stars with Japanese-Brazilian model Akihiro Sato in SRO Cinemaserye's latest comedy-romance offering titled
Moshi, Moshi, I Love You
. The pilot episode will be aired on GMA-7 this October 15.
Photo: Courtesy of GMA-7
Comedienne Rufa Mae Quinto lightens up Thursday evening viewing via GMA-7's SRO Cinemaserye latest offering Moshi, Moshi, I Love You. The four-part episode will premiere on October 15, after Shining Inheritance.
Joining Rufa Mae is Japanese-Brazilian model-turned-actor Akihiro Sato, who will star in his first television acting project after his Celebrity Duets 3 stint.
"Sigurado nervous and kasi she's a big star, and then surprise, I find her very professional and I did all my best for this first-time acting," Akihiro said about working with Rufa Mae.
The sexy comedienne, on the other hand, found Akihiro intimidating at first, saying in her trademark delivery, "Ang laking mama, ninerbyos ako, ha. All white, naka-shades tapos model, sabi ko, 'Naku paano 'to baka hindi kami magkaintindihan.' Buti naman mabilis siyang maka-memorize at nakaka-intindi siya ng Tagalog."
Both actors fortunately got over their initial discomfort and found out that their distinct characters complement the show's wacky concept. While Rufa Mae's natural flair for comedy is a given, it is surprising to discover that Akihiro in person is actually far from the stereotype we commonly associate with models.
Rufa Mae expressed great amazement with her leading man's ability to throw punchlines and jokes.
"Ok lang din kahit pagtawanan siya," laughed Rufa Mae. "Pero 'yon nga 'yong maganda sa kanya kasi game siya... Tawa lang kami nang tawa dito sa show na 'to."
FROM REEL TO REAL. Rufa Mae portrays the character of Perseveranda, a telenovela addict who finds inspiration in the stories and characters of her favorite drama-romance series while clinging to her belief that these programs mirror her own life.
One of her top favorites is the fictional Asian telenovela Tokyo With Love starring the sensational Japanese actor Akihiro Watanabe. Her admiration for the actor becomes an obsession when she learns that Akihiro will be visiting the country to promote his hit television series.
Crazed by the desire to meet and hook up with Akihiro, Perserveranda resorts to all crazy things just to gain Akihiro's undivided attention. The desperate telenovela fanatic tags along with her good friend Cora as they both join the win-a-date-with-Akihiro contest where they end up as two of the finalists.
To Perseveranda's disappointment, Cora is proclaimed winner, consequently dashing her hopes to win Akihiro's admiration. To spoil her friend's good fortune, Perseveranda plans to sabotage Cora's date with the dashing actor—unveiling in the process a kidnapping attempt purportedly masterminded by Akihiro's own manager (portrayed by Alicia Mayer).
Can Perseveranda save Akihiro from his ruthless kidnappers? Will Akihiro's heart be blown away by Perseveranda's noble deed? Who will earn Akihiro's love? Will Perseveranda's fantasy of a happy ending finally bear fruit with Akihiro as her Prince Charming?
SRO Cinemaserye Moshi, Moshi, I Love You is directed by Andoy Ranay, with Jun Lana as headwriter. Joining Rufa Mae, Alicia, and Akihiro are Gloria Sevilla, Mosang and Ricci Chan. It will air on GMA-7 right after Shining Inheritance starting October 15.