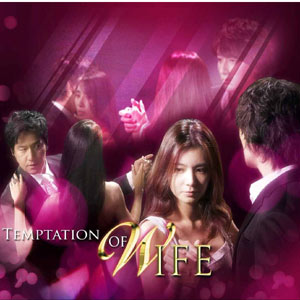 The afternoon drama Temptation of Wife has been doing well in Mega Manila, based on data provided by AGB Nielsen Philippines.
PRESS STATEMENT FROM GMA-7:

"GMA Network's Korean dramas topple their rivals in the competition as they continue to win the hearts of Filipino viewers.
"The afternoon drama Temptation of Wife has been achieving primetime-high ratings while The Baker King has been sustaining its impressive viewership since it started three weeks ago.
"Temptation of Wife had its highest weekly rating ever at 11.8% last week (January 17-21), based on overnight data among Mega Manila individuals from the more widely recognized TV ratings data supplier, AGB Nielsen Philippines.
"With such a reception from viewers, the Koreanovela has a huge probability of getting even higher ratings as destiny and luck tip to the side of Angeline Goo (Jang Seo Hee), now known as the fearless and cunning Chantal Min.
"This week, people can expect Chantal's victory in separating her ex-husband, Marcel (Byun Woo Min), and her best-friend-turned-rival, Heidi (Kim Seo Hyung). The couple files for divorce and this breaks Heidi's world apart. She is not giving up though and contrives to destroy Chantal.
'What does Heidi plan to do to her love rival? How can Chantal assure her triumph over her arch enemy and the people who turned their back on her?
"On the other hand, people could not resist following the story of Tak Gu (Yoon Shi Yoon), estranged son of a successful entrepreneur in the baking industry in the primetime Korean drama, The Baker King.
"Last Friday (January 21), The Baker King peaked at 13.0% based on AGB Nielsen Philippines overnight ratings among Mega Manila individuals.
"Before this week ends, Tak Gu finds the tattooed man who kidnapped his mother but the latter no longer knows where Melissa is (Jun Mi Sun). Tak Gu's childhood crush Eula (Eugene) also comes back to the story, meets Matthew (Joo Won) and reunites with Tak Gu.
"However, Tak Gu's life is put in danger when Roman (Jung Sung Mo) learns that he is in Pal Bong Bakery. Matthew then tells Roman that he will be the one to bring Tak Gu down.
"What will Tak Gu do now that he lost all leads to finding his mother? What will Eula's presence in Tak Gu's life bring?
"Experience the warm feeling and strong emotions that only these two Asian dramas can bring.
"Watch Temptation of Wife weekdays after Koreana and The Baker King weeknights after Beauty Queen only on GMA-7."
Ed's Note: When content falls under "Press Statement," this means that the material is fully and directly from the company itself. The use of open-and-close quotation marks to envelope the entire text shows as much. This also means that PEP is not the author of the statement being read. PEP is simply providing the information for readers who may be interested.