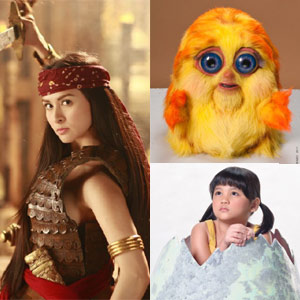 Marian Rivera's Amaya (left frame) and Iglot, starring Milkcah Wynne Nacion (lower right frame) were among the most watched programs last month. The drama-fantasy series Iglot also features a creature that descended from the pets of the human-birds Mulawin. (upper right frame).
PRESS STATEMENT FROM GMA-7:
"GMA Network, Inc. (GMA) closed September with a strong win in national television ratings against ABS-CBN and TV5.
"In fact, national viewership from the start of 2011 till the closing of the nine-month period showed a trending that establishes GMA as the top choice among the country's free-to-air channels. Data come from broadcast industry's most widely trusted ratings service provider Nielsen TV Audience Measurement.
"Total day (6am-12mn) household audience share data in September (September 25 to 30 based on overnight readings) show that GMA was the most preferred channel in National Urban Philippines relative to ABS-CBN and TV5, clinching 34.1 share points, 4.1 points ahead of ABS-CBN's 30 points, and almost twice TV5's 17.3.
"National Urban Philippines, covering the sub areas of Urban Luzon (77% of total TV households nationwide), Urban Visayas (13% of the TV household population), and Urban Mindanao (10% of the TV household population), comprises more than nine million households in total. Translated to warm bodies, the entire country has about 45 million viewers assuming each household is comprised of five individuals.
"Using the abovementioned assumption, GMA's margins in the country would translate to almost 800,000 viewers over ABS-CBN and 3.1 million viewers over TV5. The numbers provide GMA advertisers the advantage of hitting a higher number of eyeballs at competitive costs.
"In the widely watched afternoon block (12NN to 6PM), GMA strengthened its double-digit wins over competing channels. For the mentioned period, GMA was 17.5 points higher with 40.9 points compared to ABS-CBN's 23.4; and 25.2 points ahead of TV5's 15.7.
"The numbers translate to GMA having 3.3 million more viewers over ABS-CBN; and 4.7 million more viewers over TV5 on a national level in the mentioned time block.
"Less specials, longest running noontime variety show Eat Bulaga was the only daytime program that made it to the list of top five programs in National Urban Television Audience Measurement (NUTAM).
"As in previous months, GMA's total day leadership covers the viewer-rich areas of Total Urban Luzon and Mega Manila. The latter area comprises 58% of total television households nationwide.
"In Total Urban Luzon, GMA was ahead by double-digits with total audience share points of 37.6 versus ABS-CBN's 25.5 and TV5's 18.4.
"This means that 1.7 million more viewers prefer GMA over ABS-CBN, and almost 2.8 million more viewers watch GMA over TV5 in the said area.
"In Mega Manila, which comprises 17 cities in Metro Manila and six provinces in the suburbs (namely, Cavite, Rizal, Laguna, Bulacan, Pampanga, Batangas), GMA's established presence likewise inked double-digit margins for the said period. GMA had 38 share points as against ABS-CBN's 24.3 and TV5's 19.1.
"In other words, GMA had 1.5 million more viewers over ABS-CBN, and 2 million more viewers over TV5 in Mega Manila.