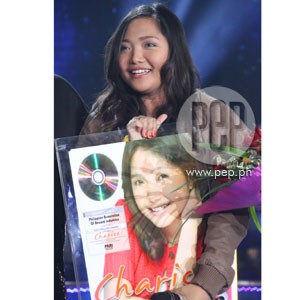 Charice was named the Golden Voice awardee by
ASAP Rocks.
She also received a combination of Gold and Platinum Award for the album
Charice: The Ultimate Collection.
Photo: Allan Sancon
Dubbed by Oprah as the "the most talented girl in the world," Charice was recently featured on the international show CNN Talk Asia. Correspondent Anna Coren had a pleasant chat with the Filipina singer who was described as "the pint-size pop sensation."
Anna asked Charice: "Four years ago, you were a young singer in the Philippines who posted videos on YouTube and now you are this international star who has a mentor like Oprah. Do you sometimes wake up and think 'Wow! This is my life!'"
Charice said with a smile: "Yes! And sometimes, I still get overwhelmed. I mean, it happened so fast. I worked hard for it and I'm still working hard for it. It's just amazing and it's a lot of blessings that all of a sudden came into my life."
The singer, who turned 19 years old last May, started joining singing contests at a very tender age to help her mother and brother financially.
Charice narrated: "Well, it was really a tough life, not really easy. My mom's a single mom and she used to be my vocal coach and I really admire her. She's definitely my inspiration and I look up to her a lot. I mean I decided to be a singer because of her. It was a tough life before but now this whole thing that happened to me really helped me a lot."
"I told my mom to stop working because it was really hard. By the age of six, I was cooking rice and some stuff for my little brother. I was giving him the milk and everything... Every time I did all the singing contests and it was horrible."
Charice added: "You start from 10 p.m. in the night and you finish at 7 a.m. in the morning and I had to go to school. She used to cry and she told me to stop and I said 'no' because that was the only way we could get a lot of money from it. I really sacrificed everything but at the same time, it felt great and it was worth it. Seeing my mom's face every time I won made me feel great".
Her father, Ricky Pempengco, passed away this year due to a stabbing incident in November.
The international star's big breaks came after guest appearances on Star King [A South Korean talent show] and popular U.S. shows The Ellen DeGeneres Show and Oprah. Charice began her recording career in the U.S. and released an album titled Charice. Her single "Pyramid," which she recorded with singer Iyaz, reached No. 8 at the US Billboard 100 music chart.
SECOND ALBUM CALLED INFINITY
CNN's correspondent also asked the singer to talk about her second international album titled Infinity.
The teen singer excitedly said: "This is actually my favorite album. I still love the first album released two years ago. But this one is way different from the first album. It has more dance songs. It has top 40 hits. I just love it because it has more meaning."
LANDING A ROLE ON GLEE
Anna also asked Charice: Your big break into the United States came in 2010 when you were signed up with the hit musical TV series Glee as Sunshine Corazon. Tell me, how did this come about?
Charice recalled, "This rumor came out that I was going to be part of the show. I love the show but I never auditioned and everything. At that time, "Why not audition?" I told my manager. I told my mom why not audition for it?
"I went to Paramount studios. Ryan Murphy was there. Brad Fallchuk was there. I auditioned for it. I wasn't expecting. Maybe they're not gonna call. I was in Europe. I was in my hotel room and checking my Twitter [account] and a thousand responses and everything. Ok what's happening? And there was this article saying "Charice on Glee." And I was saying "No way!" And I saw that, it says that, Ryan Murphy confirmed it. After thirty minutes, they actually confirmed, that I was gonna be part of the show. It's just funny I found out on Twitter first. It was definitely one of the best moments in my life."