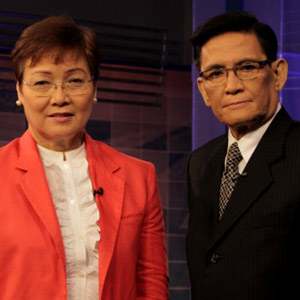 Tina Monzon-Palma and Angelo Castro Jr. will anchor ANC Chronicles, a documentary on the biggest events featured by the cable channel. It will be aired on ANC this Friday, December 16, 2011.
PRESS STATEMENT FROM ANC:
"ANC, the ABS-CBN News Channel, caps off its 15th anniversary celebration with a one-hour special documentary that will revisit the biggest, most important, and most controversial news stories that distinctively broke on ANC and shaped the course of the country's history.
"Anchored by powerhouse broadcast journalists Angelo Castro Jr. and Tina Monzon-Palma, the special titled ANC Chronicles will air on ANC this Friday (December 16) at 7 PM featuring ANC's rich collection of photos and footage its reporters have gathered in the past 15 years.
"In the documentary, Angelo and Tina will present the news channel's most memorable coverage: from the scandals that rocked former President Gloria Macapagal-Arroyo's nine-year reign to Joseph "Erap" Estrada's tumultuous saga before and after his impeachment in 2000.
"ANC carries the distinction of being the country's first and only 24-hour cable news channel and has solidified its status as the news channel to beat when it kept on breaking story after story. It was the first station to reveal Estrada's "brown envelope" controversy, Corazon Aquino's death, the gruesome 2009 Maguindanao massacre that shocked the nation, and Hubert Webb's acquittal early this year.
"The news channel saw an eventful 15 years since its foundation in 1996. It brought its viewers all the drama and action as they happen with its live and blow-by-blow coverage of the most gripping hostage takings, mutinies, and court trials.
"At the station's 15th anniversary thanksgiving celebration held recently, ABS-CBN president and COO Charo Santos-Concio said because of ANC's non-stop reportage of breaking events, its viewers don't just tune in because they want to be in the know, but because they want to feel secure.
"People who watch ANC want to be assured that there are news people watching over them, that if all else fails, news people will be the last men standing, that there are news people who care 24 hours a day so that lives will be saved and dreams fulfilled," she said.
"She added, 'ANC has the power to change the history of the Philippines. When the time comes that our country has become clean, we can be sure that we played the part in making it happen.'
"ANC managing director Ging Reyes also expressed that today's fierce competition with other local news channels only pushes them to continue standing for journalistic credibility and excellence.
"We're not sure where the story will take us but as always, ANC is there, its working men and women ready for any challenging coverage," she said.
"Meanwhile, ANC treats its viewers with a yearend special highlighting its coverage of the biggest local and international news stories including issues that trended on social media sites, to be anchored by Pinky Webb. It will air next Friday (December 23), 7 PM.
"Business anchor Coco Alcuaz will run down the reports and events that mattered in the business world and the economy this year in a Business Nightly two-part yearend special. Part one will air next Thursday (December 22) at 9 PM, and part two the next day (Dec 23) at the same time.
"Don't miss ANC Chronicles with Angelo Castro Jr. and Tina Monzon-Palma this Friday (December 16), and the yearend special with Pinky Webb next Friday (December 23), 7 PM and "Business Nightly" with Coco Alcuaz, starting December 22 at 9 PM on ANC, the ABS-CBN News Channel on SkyCable channel 27."