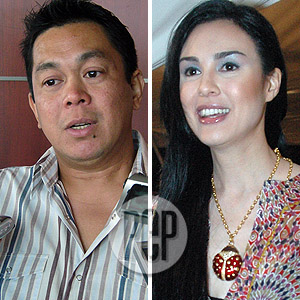 "I'm sorry Gretchen. I hope magkabati na kayo ng asawa ko [Marjorie], magkabati na kayo nina Daddy. Di ko alam kung sino ang gagawa ng first move, pero I'm sure through prayers, somebody or a circumstance will bring back together the family," says Dennis Padilla about his estranged sister-in-law Gretchen Barretto..
Photo: Nerisa Almo and Noel Orsal
"Ngayon ko lang narinig 'yon. Hindi ko alam na nagkayakapan," said a surprised Dennis Padilla about the reconciliation of his sisters-in-law, Gretchen and Claudine Barretto.
The feuding sisters—Gretchen and Claudine—bumped into each other at S&R, The Fort, last week. Claudine said that Gretchen saw her while she was grocery shopping. The two hugged and cried. No words were spoken. The sisters parted ways after their emotional encounter.
He continued, "I'm so happy na nagkita si Claudine and Gretchen. I'm sure it will be the start of a healing process. I hope mag-heal na rin 'yong pain between Marjorie [Dennis's wife] and Gretchen. I hope, soon mag-heal na rin 'yong pain between Mommy and Daddy [Gretchen's parents] and Gretchen, me and Gretchen."
The eyes of the comedian-turned-politician started to well up.
"I want to say to Gretchen na 'I am sorry' kung mayroon akong pagkukulang, o may nasabi, o nagawa. Patawarin mo ako. Kalimutan na natin 'yong hate and anger. Let's restore love," said Dennis boldly.
REPORTED HISTORY. Gretchen and her family, the Barrettos, have been feuding since 2004.
The falling out started when ABC-5, owned by Gretchen's partner Tonyboy Cojuangco, hired Willie Revillame to host the show Puso o Pera?. It was said that Dennis, Willie's former co-host in Masayang Tanghali Bayan (MTB) on ABS-CBN and husband of Marjorie, had a heated conversation with Gretchen. Dennis questioned Gretchen why the station hired Willie.
According to reports, Dennis blamed Willie for the cancellation of MTB, which left him out of job.
YES! magazine's associate editor Anna Pingol wrote in July 2004: "An ABC-5 executive told YES! that Gretchen holds no position in the station and has no say in any show or in hiring of artists in the network. The decision to hire Willie, the executive said, was made by the management team."
The argument between Gretchen and Dennis was said to have resulted to Dennis—Marjorie and kids in tow—moving out of the Loyola Grand Villas house, which Gretchen owned.
THE "REAL" ROOT. Dennis clarified that his misunderstanding with Gretchen was not about Willie.
"Never, no [it wasn't about him]. That was misconstrued. Willie was never a part, because Willie remained a friend through the years. Hindi siya part. 'Yong naisulat lang twisted. Ang problema lang doon lumaki kasi Marjorie and I, we, never spoke about it," said the comedian.
Dennis refused to give details as to what caused the misunderstanding.
He commented, "It started with a very small misunderstanding. It was very small, but when some people started writing, 'yong bulate naging kobra. So noong naging kobra na siya, nakakatuka na siya, marami na siyang nasasaktan. Kasi noong bulate pa lang siya, hindi naman siya nakakasakit. So lumaki. Matagal na, three years mahigit na."
Dennis also revealed that he never had any anger towards Gretchen.