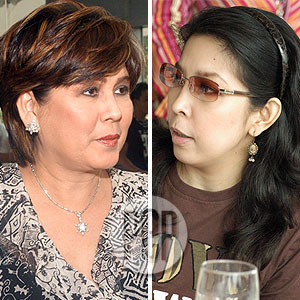 "Enrich my vocabulary. Your words are a novelty to me. Annabelleisms!" Dolly Anne defiantly wrote in her column published today in the
Philippine Daily Inquirer
.
Photo: Noel Orsal
As she promised last Monday, entertainment columnist Dolly Anne Carvajal finally broke her silence on the entire Annabelle Rama brouhaha in a way she knows best—writing.
"I have much better things to write about. But Rama is on a rampage against me; she just refuses to be ignored," opens Dolly Anne in her column, "DollyWood," printed today, June 7, in the Philippine Daily Inquirer.
"I think it's best to put everything down in black and white now, in a form that I can't disown later, rather than grant TV interviews that can be spliced for the sheer purpose of sensationalizing and/or pitting personalities against one another," continues Dolly Anne, who turned down a number of interview requests, particularly from the two giant networks.
She's just getting started.
STICK TO THE ISSUE. Dolly Anne wasted no time and finally fired back at her tormentor by writing: "Obviously, Rama doesn't care to answer anything in the affirmative or negative, only in expletives."
Dolly Anne was visibly hinting at Annabelle's series of public tirades against her; the most recent and undoubtedly the most notorious of them all took place last Sunday (June 2) at GMA 7's Showbiz Central. On a free-wheeling offensive, Annabelle berated Dolly Anne before host Pia Guanio and the cameras.
During the said interview, Annabelle called the besieged columnist "bobo" and accused Dolly Anne of occasionally asking money from her. The former actress even questioned Dolly Anne's character by stating that she only made it as a reporter through her connections and background. Dolly Anne is the daughter of the late Lourdes Jimenez Carvajal— the famous Inday Badiday, or Ate Luds, who was Philippine television's queen of showbiz talk shows and queen of intrigues.
"What's that got to do with anything?" Carvajal asked, once again requesting all involved to stick to valid questions.
Dolly reiterated for the nth time that what she previously wrote—the alleged link of Yilmaz Bektas's family to a big-time drug syndicate and Ruffa Gutierrez's rumored first marriage to a certain Richard Daloia in Las Vegas, Nevada in 1999—were all inquiries from readers, not a personal malicious attack.
She also revealed that Inquirer Entertainment, in accordance with the ethics of fair journalism, tried to keep in touch with the Gutierrez's to shed light on the raised questions, but to no avail.
Dolly Anne then derided Annabelle's accusation that she's "nakikisawsaw" with the entire Ruffa-Yilmaz separation ruckus by posing another question: "If they so abhor media scrutiny, why didn't they go about this whole thing quietly?"
HITTING THE TV INTERVIEW. Though she never said it directly, it was obvious that Dolly Anne was more offended by Showbiz Central's treatment of the entire Annabelle Rama interview.
She expressed disappointment that the said program allowed Annabelle to insult her with reckless abandon without considering the weight of words being unleashed on primetime TV. In the end, according to Dolly Anne, nothing was settled regarding the true issue at hand.
"After the ballistic Rama was done berating me, Pia Guanio didn't even ask exactly where the venom was coming from. Did the interview clear up anything?"
Pia Guanio as a professional interviewer, implied Dolly Anne, should have at least tried to solicit a yes or no, true or false reply from Annabelle, especially on Ruffa's supposed marriage with Richard Daloia, instead of letting her guest muddle the real issue.