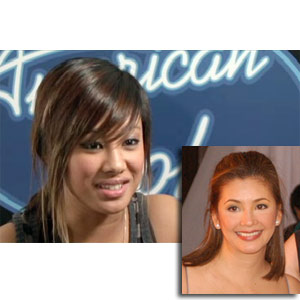 "I don't think I'm like any of the other former contestants. I don't know, I don't see myself like anybody else in, like, the past seasons. I don't know, I'm just like me," says Filipino-American Ramiele Malubay, one of the Top 24 semifinalists of American Idol Season 7.
Photo: Screen grab from americanidol.com (Ramiele) & Noel Orsal (Regine)

"When I found out that I was on top 24, I kinda slapped my face, that really hurt," related Filipino-American Ramiele Macrohon Malubay about her feeling when she made it as one of the semifinalists of seventh season of American Idol.
In a video interview posted at the official website of American Idol, www.americanidol.com, Ramiele shared how she felt when she was announced as one of the semifinalists in the world-famous televised singing search.
She said, "I kinda stood and sit up a whole bunch of times because I really didn't know. I thought she [Paula Abdul] was psyching me out and telling me I wasn't gonna make it. I don't know, I don't know what she was thinking. And then, when I made it, I kinda freaked out a little bit. I went downstairs and they told me I was just like I had this plain look on my face."
Being included in the Top 24 is already a big achievement, but Ramiele said that fame has yet to hit her. She humbly said, "I didn't know how to take it yet. It still hasn't hit me. I'm not like, 'Oh yeah.' Maybe it'll hit me when I'm like walking on the street."
Only 20 years old, Ramiele, who hails from Miramar, Florida, started singing when she was 12, during her cousin's birthday. She also named our very own Asia's Songbird Regine Velasquez as her favorite performer.
Aside from Regine, Ramiele listed down Aretha Franklin, Jackson 5, Mariah Carey, and Lani Misalucha as her musical influences. She also plays the piano and guitar, and loves dancing the hula.

"I took piano for five years but I can't read all the hard notes anymore. But I learned the guitar. My sister is teaching me. I'm not too good at that but, you know, I can. I'm into hula dancing, Polynesian dancing since I was in first grade."
RAMIELE GETS PERSONAL. In the said introduction video, Ramiele revealed some other personal facts.
"People would be surprised to learn that instead of singing in the shower, I like put the music on, like random songs, like Spice Girls, that stuff, and dance in the shower. It's kinda personal but, yeah," said the
American Idol
semifinalist.
Balot is the weirdest thing she has ever eaten. "It's like... I think it's a duck egg. It's cooked but there's a baby inside, baby, the bird thing. And you're supposed to eat the whole thing, it's kinda gross. I don't know. I don't it anymore. But yeah, it tastes good if you eat the outside part instead of the baby inside."
The American Idol hopeful also shared her most embarrassing moment when she slipped while performing on stage.
Ramielle narrated, "I was wearing heels because... I swear short people should stay like lower to the ground. That's why God make you short, you know. I went on stage, I was wearing like stilettos. I went go to turn around and slipped. I was wearing a dress so it's not cute."
NEXT AMERICAN IDOL? Becoming famous was not really the aim of Ramiele when she decided to join the American Idol auditions.
The seventh Fil-Am who made it to the Top 24 of American Idol explained, "It's not like I wanna be famous, but I wanna represent for Asian people and I wanna just live my dream. Singing in the showers is a lot more different than singing on stage in front of all these people."
Ramiele also said that she would not feel depressed if she does not win the American Idol title. Past winners include Kelly Clarkson, Reuben Studdard, Fantasia Barrino, Carrie Underwood, Taylor Hicks, and Jordin Sparks.
"If I don't become the next American Idol, I really don't think I'm gonna get discouraged or anything and be like, 'I'll never gonna sing again.' I mean, of course, it's a big experience, you know. You'll learn all these, you know, up until the point, you know, where you get taken off. You just take what you've learned and grow from it," Ramiele said.