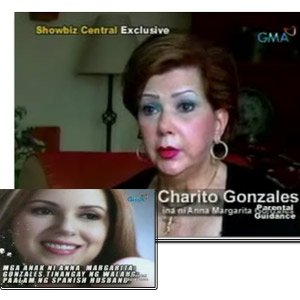 "I'm asking as a lola, as a mother, to please help us with this case. We want these children back to where they belong, to the mother," pleads Charito Gonzales, who appeared in public for her daughter Anna Margarita (inset).
Photo: Screen grab from Showbiz Central
The family of former actress Anna Margarita Gonzales sought the help of Showbiz Central to let the public know that her Spanish husband allegedly abducted their two children.
Last Sunday, April 6, in Showbiz Central, Anna Margarita's mother, Charito Gonzales, granted an interview to explain for her daughter. Charito is the wife of former matinee idol Jose Mari Gonzales.
"This is the first time and this will be the last time I will speak in TV," Charito started. "I have never spoken in TV regarding my children, you know, because we are a family that...we don't, you know, our private lives."
Then, she narrated how the husband of Anna Margarita, who is also the sister of former sexy actress Christina Gonzales, left their house with their children. She said, "Her two children were abducted by her Spanish husband last January 31. Like a thief in the night, he left. They were brought in Madrid with the help of two sisters who work in the Spanish Embassy."
Following this, the Gonzales family decided to file a case against Anna's husband, to whom she was married for eight years. "We filed a R.A. 9262 with conspiracy. The case is 08300928, it was in Muntinlupa. I will not go into details about the case because it's ongoing," explained Charito.
Republict Act No. 9262 is also known as Anti-Violence Against Women and Children Act of 2004.
When asked what could have been the cause of this incident, Anna's mother revealed, "Malalim ang problema. They were having marital problem, I guess, and he just decided to take off like a thief in the night."
She added that Anna even tried to contact her husband but to no avail. Also, she said, "My daughter even tried to give gifts for the children and he rejected everything."
Charito then described that her daughter is depressed right now because of too much worry about her children. She told Showbiz Central, "She's been with me for four months already. She's fine, she's very fine except that she's very depressed. Very naturally, a mother will be very depressed if her children will be taken away from her."
Then, as a concerned mother, Charito pleaded to the public, "I'm asking as a lola, as a mother, to please help us with this case. We want these children back to where they belong, to the mother because they are minors—one is seven [years old], a boy; the other one is a girl of five.
"All mothers and all grandmothers will feel the same way I feel, okay? And my daughter feels so bad, she's so depressed over her children."
In the end, she was tough in saying that their family will fight to have Anna's children back. "This is not fair, what they have done to my daughter. I'm a mother, too, and if they did that to my children, I will fight to death. We are going to fight because this I will not take sitting down neither will my husband. We are going to fight," said Charito firmly.