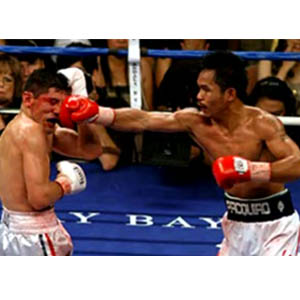 "In MegaTAM Households, the Pacquiao-Diaz fight (in photo) ranked 5
th
in terms of AMR percentage at 46.4. The Pacquiao-Larios match at 54.4 percent, which aired in ABS-CBN in July 2006, is still the top Pacquiao match in Mega Manila," AGB Nielsen Media Research Philippines indicated in its report forwarded to PEP (Philippine Entertainment Portal).
The boxing match between Pinoy pride Manny Pacquiao and Mexican warrior Oscar "Chololo" Larios held at the Araneta Coliseum on July 2, 2006, at press time, still holds the record as the highest rating Pacquiao fight in the Mega Manila survey.
According to AGB Nielsen Media Research Philippines, the 12-round bout dubbed as Mano-A-Mano raked in a total of 54.4 percent rating while Manny's recently concluded match with "Dangerous" David Diaz garnered an overnight rating of 46.4 percent.
The 46.4 percent mark of the Pacquiao-Diaz match—conducted last Sunday (Manila time), June 29, at the Mandalay Bay Resort and Casino in Las Vegas, Nevada—is still indefinite since the full data is yet to be finalized.
Trailing behind the Pacquiao-Larios fight is Will to Win: Pacquiao-Barrera II, which was held last year, October 7 (Manila time) also in Las Vegas. The said event garnered a final tally of 49.5 percent rating.
The NUTAM (Nationwide Urban TV Audience Measurement) report, however, showed Will to Win: Pacquiao-Barrera II, emerging as the most watched Pacquiao fight so far. Notching a nationwide rating of 49.7 percent, the match nosed out another rematch, the Pacquiao-Marquez II: Unfinished Business bout shown locally last March 16, 2008.
RECORD STILL STANDING. Last Monday, June 30, it was reported that the Pacquiao-Diaz boxing event surpassed the record set by the Pacquiao-Larios bout by collaring an impressive 63.8 percent rating in Mega Manila against the 54.4 percent rating established by the former.
AGB Nielsen though corrected the data saying that as of the moment, the recent Pacquiao fight garnered an overnight rating of only 46.4 percent overall and not 63.8 as earlier announced.
The media research firm provided PEP (Philippine Entertainment Portal) with a breakdown of Manny's fights and corresponding ratings and ranking:
MegaTAM Households:
Pacquiao-Larios: Mano-A-Mano (ABS-CBN) - 54.4%
Will to Win: Pacquiao-Barrera II (GMA-7) - 49.5%
Pacquiao-Morales III: The Grand Finale (ABS-CBN) - 49.5%
Marquez-Pacquiao II: Unfinished Business (GMA-7) - 48.5%
Pacquiao vs. Diaz: Lethal Combination* (GMA-7) - 46.4%
Erik Morales-Manny Pacquiao: The Battle II (ABS-CBN) - 44.7%
Pacquiao vs. Solis: Blaze of Glory (GMA-7) - 39.1%
Pacquiao vs. Marquez: Moment of Truth (RPN-9) - 33.9%
Morales vs. Pacquiao: Coming with Everything (RPN-9) - 33.6%
NUTAM Households:
Will to Win: Pacquiao-Barrera II (GMA-7) - 49.7%
Marquez-Pacquiao II: Unfinished Business (GMA-7) - 48.6%
Pacquiao-Morales III: The Grand Finale (ABS-CBN) - 47.9%
Pacquiao vs. Diaz: Lethal Combination* (GMA-7) - 46.6%
Pacquiao vs. Solis: Blaze of Glory (GMA-7) - 38%
Legend: * Overnight data
Source: AGB Nielsen Media Research, Philippines