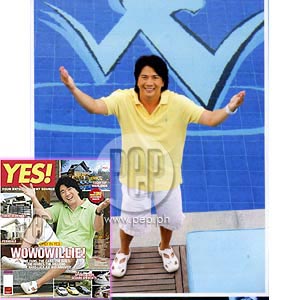 "We're printing an additional 40,000 copies. This is the third reprint," reads the e-mail message that PEP received today from Summit Media's publisher Aurora Mangubat-Suarez about the January issue of YES! magazine. The said issue features the controversial TV host Willie Revillame, who opens his four prime real-estate properties and shows his prized possessions to the public for the first time.
It looks like many are curious about Willie Revillame's life and assets, which has the January issue of YES! magazine selling like hot cakes.
Last week, PEP (Philippine Entertainment Portal) reported about the two-time reprinting of YES! magazine's "Wowowillie" issue this January. From the initial printing of 135,000 copies, Summit Media had to reprint an additional 25,000 copies in response to the continuous demands of interested readers.
After less than a week, Summit publisher Aurora Mangubat-Suarez has another good news: YES! magazine is reprinting 40,000 copies for the third time. Overall, the total circulation for this issue of YES! magazine would be 200,000 for the first month of the Year of the Ox—a first not only in YES! magazine's eight-year history but in the whole magazine publishing history.
With the help of Willie's persistent promotion of YES! in his show Wowowee, the "Wowowillie" issue outnumbered the former top issue of YES! magazine by almost 25 percent. The July 2008 issue, where the engagement of celebrity couple Judy Ann Santos and Ryan Agoncillo was officially announced, sold an estimated 140,000 copies.
FIRST TIME TO SEE. YES! magazine associate editor Anna Pingol describes their interview with the controversial Wowowee host as "unafraid, bold, and no-holds-barred."
True enough, Willie has been very open in this interview as he relates how he managed to become a popular variety show host from being a college-undergraduate drummer.
Aside from his personal life, this issue of YES! also gives the readers an opportunity to take a look at Willie's four prime real-estate properties, which his avid fans have been raring to see. These include "a pricey Tagaytay Highlands estate; a sophisticated, modern two-story home in Corinthian Hills; an upscale Ayala Land house in Ferndale; and a modest townhouse unit in Capitol Golf Hills.
The TV host also narrates his passion for cars by showing six of his 11 cars, all of which are luxury brands. Then, his other prized possessions—two yachts named Wow Cruiser and Wow Cruiser II.
See more of these properties in detail when you buy the latest issue of YES! magazine this month.