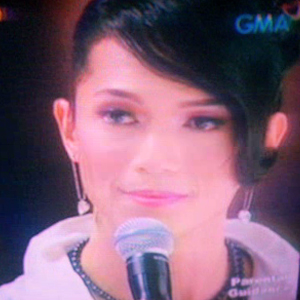 There is a deeper meaning to Rustom Padilla's new name. Bebe stands for his new motto, "Be all what you can be."
Photo: Screen capture from GMA-7's Startalk
Rustom Padilla came back from a three-month stay in the U.S. last Thursday, January 15. Rustom, who studied modeling in New York, surprised Startalk at the airport with his feminine classy look and ramp-model bearing.
When Startalk got hold of Rustom, the first thing they asked was whether airport officials had any difficulty distinguishing him and his passport photo.
"Medyo," smiled Rustom. "Pero hindi naman. Pero, pinapapunta muna nila ako sa foreigners, so, sabi ko na Pilipino ako. They just asked me to take off my shades. I think natutuwa sila na makita ako. Ma'am ang tawag sa akin so, I feel like a woman."
Rustom has taken his sexual preference to a new level by changing his name to suit his lifestyle.
"I'm a woman, so, call me Bebe [pronounced, "bibi"]," the artist known as Rustom Padilla told Startalk. "I'd really appreciate it if you call me Bebe. Rustom's not here. Bebe's here, she's alive and kicking! Bebe's a character that people are gonna watch and I'm gonna portray...so, Bebe's here to stay."
Bebe is short for Binibining Gandanghari, and it's a role Rustom definitely wants to portray.
"That's my name," Bebe said. "She is a God-fearing, loving lady. I am a woman. I am a woman. Bebe's a woman...Emotionally, physically, biologically, spiritually, psychologically, socially..." at this point, Bebe's seriousness faded and he quipped, "Ano pa ang gusto mo, financially?"
Though a lot has changed in Bebe's overall physique, he didn't comment on whether he was drinking estrogen pills or has undergone any operation. At this time, he can be proud of his vital statistics. "I think it's 35-26-35," he said.
Will Bebe's family react once he sees them?
"I'm sure everything will be fine," said Bebe. "Wala naman akong sinasaktan na tao. Wala naman akong ginagawang masama. I do my own decisions and as long as I know that it is responsible, I'm only asking for pang-unawa."
WALKING THE RAMP AT STARTALK. Bebe guests today live at Startalk to talk about his plans now that he's back home. Startalk's Butch Francisco gives a welcome remark ("Long live, Bebe!") as Bebe goes onstage to give the viewers a taste of New York style modeling.
Once seated, Joey de Leon immediately went for the "Question": Has he undergone a sex change operation?
"I'd rather not comment about it sa mga panahon na ito," Bebe said. "So, I hope napagbibigyan n'yo ako doon."
But for now, is Bebe willing to undergo a sex change?
"That's a hard decision, so I'd rather not talk about it," said Bebe. "I'm in the middle of everything."