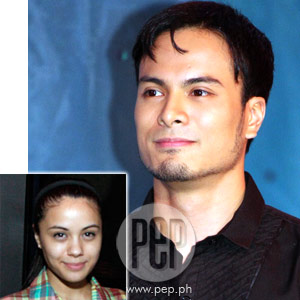 "In a relationship, you're a team, you're supposed to communicate, you're supposed to work things out together," said Rafael Rosell about the things he learned from his recent breakup with long-time girlfriend Malaya Lewandowski.
Photo: Noel Orsal
Three weeks ago, Rafael Rosell got teary-eyed as he confirmed his breakup with his girlfriend of three years, Malaya Lewandowski.
At the press conference of his latest movie Status: Single last January 20, Rafael said that he was shocked by his former girlfriend's decision to end their long relationship.
He said, "May mga bagay na kaming hindi na pagkakasunduan. But I'm ready to make sacrifices. Hindi ko na lang pinapansin ang mga 'yon because alam ko na we are in love and I thought that was enough for us. Hindi naman pala."
More than a week after, PEP (Philippine Entertainment Portal) received an email from a PEPster, who was asking for a story about the status messages of the Coverboys member in the social networking site Facebook.
PEP tried to contact Rafael's handler to confirm these status messages. After several attempts, however, we were left hanging—without any statement from Rafael or Star Magic, ABS-CBN's talent arm which handles his and Malaya's showbiz career.
Fortunately, last February 10, Candice Lim of YES! magazine had a photo shoot with the 26-year-old actor. She was able to ask for a confirmation about the said email and Rafael was kind enough to openly talk about what happened to his most recent romantic relationship.
THE KINDNESS OF STRANGERS. Before he explained each status message, Rafael first explained why he opened up about his feelings on Facebook.
"We're together kasi for three years," he began. "For those three years, ever since I came to the Philippines, I haven't found a friend that I could actually open up to and say lower my pride, put down the walls, and just cry to, ask for help or moral support.
"I did this because I know she has a brother that she could go to, she has the whole family support. I don't like involving my families, especially my mom, sa mga problema ko sa buhay. I don't wanna trouble her with things, the consequences that I make. So, what I did, I posted things just to see who was on my side, because I felt I don't have, didn't have anyone on my side.
"I felt like she just dropped everything and I was left there with nothing. So, I also realized na since she was my worth for three years, I lost connections with a lot of my friends. I didn't know who to reach out to so I did that and people come, and I finally realized na I have a lot people who support me and believe in me."
After letting it all out on his Facebook account, Rafael was surprised that a lot of people expressed concerned for him.
"It's a great feeling to know that, you know, people you don't even know will still be there for you. They say na it's easy to open up to a stranger. Sometimes it helps, just open up to a stranger coz he doesn't know anything. When I did that, people actually listen and they gave me support."
"THIRD PARTY, NO. LEFT ME FOR ANOTHER GUY, YES." Before he could explain the first status message, Rafael already clarified that there was no third party involved. He said, "Third party, no. Left me for another guy, yes."
Then he continued with the first status message: "Rafael: Just found out... there was a third party. 5:41 am."