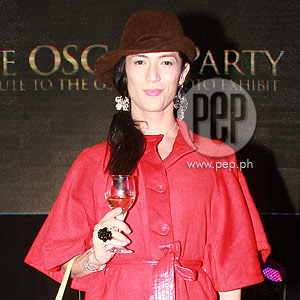 When asked about her wardrobe critics, BB Gandanghari just smiled and said, "Really? That's sad. As far as I know, this is [outfit] is from New York."
Photo: Noel Orsal
BB Gandanghari's arrival at the "Tribute to the Oscars" event of Velvet, held at the Ayala Museum in Makati, created quite a stir.
She did not have any participation in the photo exhibit, everyone wanted to have a photo taken with him
The "newly-transformed" celebrity, who claimed that her identity as Rustom Padilla is dead, was ecstatic about the reactions she's been getting from the people.
In an interview with PEP (Philippine Entertainment Portal), BB exclaimed: "What can I say, I'm very happy!"
Looking back, the 43-year-old star said that coming out of the closet was a long process for her. Her decision to finally tell everyone about her sexual preference came after his short stay in New York.
"It's really a process," BB told PEP. "Of course, eventually, I faced the reality in New York. When people, parang mga kaibigan na nakilala ko doon, parang all of a sudden, everyone is calling me BB."
She also clarified that changing her name has nothing to do with future projects. It's really part of her transformation process. She stressed, "Because my first name is Binibini, BB for short. That's my personal name. It's not any role, not any project, that's my personal name."
STAYING AWAY FROM NEGATIVE COMMENTS. While many appreciated the new BB Gandanghari, some were not too happy, even ridiculing the way she dresses, talks and walks.
BB arrived at the party clad in a red top over a long black skirt. She chose to ignore the negative comments.
When we related to her the comment of stand-up comedian Vice Ganda about her "baduy and mismatched"outfits, BB just smiled and said, "Really? That's sad. As far as I know, this is from New York." Then she added in jest, "Huwag ninyong tutularan, bad example. You don't do that."
As for her lovelife, BB said it's not her priority. She added, "I'm very busy with work. Yeah, I meet a lot of people but nothing serious, just meet and greet."
CLEARING SOME ISSUES. PEP also took the chance to hear BB's side on the alleged commotion she caused at the Embassy Club in The Fort Taguig, where she was spotted wearing "super-super short shorts."
BB just shook her head and stated, "I don't go out."