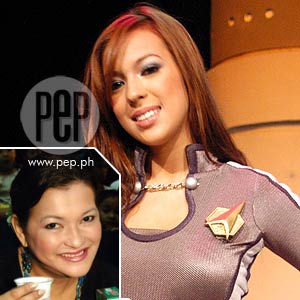 Former Zaido: Pulis Pangkalawakan star Karel Marquez gave birth to a healthy baby girl today at St. Luke's Medical Center this morning, according to her mom Pinky Marquez (inset).
Photo: Noel Orsal
Karel Marquez gave birth today, according to her mother Pinky Marquez. In a phone interview with Startalk today, March 14, she confirmed news that Karel has indeed given birth to a baby girl named Kaylie Adriana (pronounced Kaylee).
"She gave birth today at March 14, 2009, at 10:42 am at the St. Luke's Hospital," added Pinky.
Now that Karel has given birth, does she plan to marry her non-showbiz boyfriend Armand anytime soon?
"Yes, of course," said Pinky. "They will, of course, get married. They plan things so meticulously! We're all so excited about this already."
Does the baby look like Karel?
"If you'll see the pictures, they look alike and they look like us," said Pinky. "Maybe all rolled into one. Who knows? We can't tell because it was only a few hours ago when I saw the baby."
Now that mom Pinky is now a lola, how does she feel?
"A-ha, young lola!" laughed Pinkie. "Thank you so much!"
Karel left showbiz in 2007, reportedly to study in the U.S. The news triggered rumors that she was pregnant and just wanted to hide it from showbiz by going to the U.S. Pinky denied the rumor immediately and said that Karel's decision was about time and health concerns.