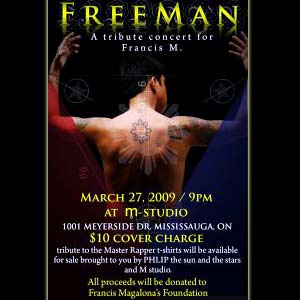 This is the actual poster of the tribute show for the late Francis Magalona, in Ontario, Canada. It indicates that "all proceeds will be donated to Francis Magalona's Foundation," which does not exist, according to the Master Rapper's widow, Pia Arroyo-Magalona.
Two tribute concerts for Francis Magalona are set to happen in Ontario, Canada and in Dubai, UAE on March 27 and April 5, respectively. The first one will be organized by "Mstudio" and will allegedly benefit "Francis M foundation," while the latter will be mounted by "Filipino artists" and its proceeds will go to "Philippine Red Cross."
A "concerned citizen" fed these details to PEP (Philippine Entertainment Portal) at around 10:00 this morning, March 17.
She added that the publicity materials bore Francis M's photos, which the Master Rapper posted in his Multiply account himself when he was still alive. One of the organizers even hyped about wearing "The Sun and Three Stars" shirts for the King of Pinoy Rap.
But the major puzzler here—How come the family of Kiko is clueless?
They found out about it only last night, March 16. Unna Lu, the eldest daughter of Francis, stumbled upon two Facebook event invitations. Links were initially provided, but as of 11 a.m. today, March 17, the links had been canceled.
THE ONTARIO CONCERT. Here's the complete text (published as is):
"Francis Magalona's music and lyrics didn't only spur attention, it evoked thoughts and a nationalistic attitude.


"From 'Mga Kababayan Ko' (My Fellow Countrymen), to 'Three Stars & A Sun,' to 'Man From Manila,' to 'Tayo'y Mga Pinoy' (We Are Filipinos), Francis M.'s songs weren't only certified hits, it made Filipinos proud to be who they are and do away with the colonial mentality that have plagued them in the past.


"This March 27, Mstudio is honoring the man who not only catapulted Filipino hip hop to mainstream status and pioneered the merging of Filipino rap with Pinoy rock, he also inspired millions and generations of Filipinos to represent and be proud of their nationality. And because of all of this, FrancisM, we thank you.


"Proceeds of the event will be donated to Francis Magalona's foundation. Also, PHLIP The Sun and the Stars will be selling Master Rapper t-shirts and part of the proceeds will also go to the foundation.


"To view the life and accomplishments of Francis M, please click on the link.


"For more info on PHLIP The Sun and the Stars, and to become a fan, please click on the link.


"How to get to M Studio by Car: Take the 401 to Dixie Road. Exit Dixie Road going north. Turn left on Meyerside Drive. M Studio is at the plaza on the right just before Tomken.


"How to get to M Studio by Bus: Take the subway to Islington. Take the #1 bus going west. Hop off on Tomken Take the #51 or 51A heading north on Tomken. Hop off at Meyerside and M Studio should be on your right (northeast corner of the intersection)."
THE DUBAI CONCERT. Here's another event, which is organized by a Pinoy DJ. The actual post in Facebook goes:
"Club Manila and Chi @ d' Lodge brings you: Three Stars and the Sun... A Tribute to Francis Magalona.
"Fellow Filipino"s in the Middleast we are inviting everyone to be a part of reliving the legacy of the man who started it all...The Philippines Rap icon Master rapper Francis Magalona.
"Your presence and support will be much appreciated. As we continue what Francis have started, the love for our country. Thru his music he touches and inspired a lot of people especially the youth.
"And we the Filipino artist in UAE (DJ, Band, Rap Artist, Breakdancers, etc) join hands in presenting a tribute to Francis Magalona.
"All tickets sales will be donated to the Philippine Red Cross.
"And we are calling all Filipino group or organization to be a part of this tribute and charity event.Your support will be highly appreciated.
"Let's Rap for Peace and Unity.