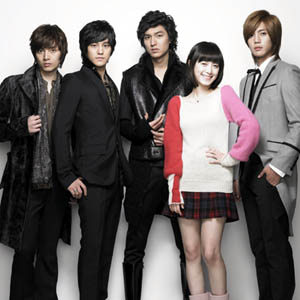 The cast of the Koreanovela Boys Over Flowers.
Photo: Courtesy of ABS-CBN
Boys Over Flowers, the Korean version of the hit Taiwanese series Meteor Garden which starred the phenomenal F4, premiered last night, May 11, in ABS-CBN. The Korenovela generated a rating of 24.6 percent on its debut to place 8th overall.
May Bukas Pa still holds the crown as the No. 1 primetime series with 38.7 percent. Tayong Dalawa climbed to No. 2 with 37.5 percent, while Only You dropped to No. 3 with 36.8 percent.
Completing the Top 5 are TV Patrol World (29.1 percent) and Zorro (25.6 percent).
Occupying the rest of the Top 10 are 24 Oras, Totoy Bato, All About Eve, and Fated To Love You.
Meanwhile, the daytime race has a new leader. Precious Hearts Romances Presents Bud Brothers slipped past Wowowee; 23.2 percent vs. 22.9 percent.
They were followed by Kambal Sa Uma, Dapat Ka Bang Mahalin?, and Paano Ba ang Mangarap? to complete the Top 5.
Rated K topped the primetime race last Sunday, May 10, with 28.2 percent; while ASAP '09 led the daytime race with 18 percent.
The new season of Your Song Presents Boystown premiered strongly with 13.5 percent to place second. Janno Gibbs's new game show Power of 10 also had a modest start with 20.7 percent to rank fifth.
Maalaala Mo Kaya and Wowowee ruled the ratings game last Saturday, May 9.
Finally, May Bukas Pa and Wowowee were the topraters Friday, May 8.
Here are the comparative TV ratings of ABS-CBN and GMA-7 programs from May 8 to 11, based on the overnight ratings of Taylor Nelson Sofres (TNS) among national households:
May 8, Friday
Non-Primetime:
Umagang Kay Ganda (ABS-CBN) 6.8%; Unang Hirit (GMA-7) 6.9%
Lastikman (ABS-CBN) 11.7%; Pokemon Master Quest (GMA-7) 6.9%
Reborn (ABS-CBN) 11.7%; Gadget Boy (GMA-7) 9.1%
Naruto (ABS-CBN) 11.8%; One Piece (GMA-7) 12.5%
Mr. Bean Live (ABS-CBN) 8.2%; Slamdunk (GMA-7) 15.3%
Ruffa and Ai (ABS-CBN) 8.7%; SiS (GMA-7) 8.6%
Pilipinas, Game KNB? (ABS-CBN) 14.4%; Lalola (GMA-7) 10.2%
Wowowee (ABS-CBN) 26%; Eat Bulaga! (GMA-7) 16.7%; Daisy Siete (GMA-7) 17%
Kambal Sa Uma (ABS-CBN) 21.5%; Precious Hearts Romances Presents Bud Brothers (ABS-CBN) 23.1%; Paano Ba ang Mangarap? (GMA-7) 21.3%
La Traicion (ABS-CBN) 16.7%; Kiba (ABS-CBN) 10.9%; Pacmania: Welcome Sa Pambansang Kamao (ABS-CBN) 19.1%
Mr. Bean Live (ABS-CBN) 12.4%; Hot Shot (ABS-CBN) 13%; Dapat Ka Bang Mahalin? (GMA-7) 17.5%
Primetime:
Pinoy Bingo Night (ABS-CBN) 15.9%; Hole In The Wall (GMA-7) 22.2%
TV Patrol World (ABS-CBN) 29%; 24 Oras (GMA-7) 26.4%
May Bukas Pa (ABS-CBN) 36.2%; Zorro (GMA-7) 26.2%
Only You (ABS-CBN) 35.6%; Totoy Bato (GMA-7) 24%
Tayong Dalawa (ABS-CBN) 33.5%; All About Eve (GMA-7) 18.8%
SNN: Showbiz News Ngayon (ABS-CBN) 16.1%; Fated To Love You (GMA-7) 20.3%
S.O.C.O (ABS-CBN) 9.2%; Bandila (ABS-CBN) 5.1%; Bubble Gang (GMA-7) 13.8%
Trip Na Trip (ABS-CBN) 2%; Saksi (GMA-7) 5.7%
Games Update Live (ABS-CBN) 0.6%; OFW Diaries (GMA-7) 2.4%
May 9, Saturday
Non-Primetime:
Salamat Doc (ABS-CBN) 3.9%; Kapwa Ko, Mahal Ko (GMA-7) 2.1%; Transformers Beast Machine (ABS-CBN) 3%
Kabuhayang Swak Na Swak (ABS-CBN) 4%; Slazer X (GMA-7) 5.7%
Wanted: Perfect Husband (ABS-CBN) 3.5%; Black Jack (GMA-7) 8.2%
Sineskwela (ABS-CBN) 5.2%; Bakugan Battle Brawlers (GMA-7) 9.7%
Disney's Teamo Supremo (ABS-CBN) 6%; Batang Bibbo (GMA-7) 9.3%
Transformers Cybertron (ABS-CBN) 4.8%; Art Angel (GMA-7) 9%
Ultraman Max (ABS-CBN) 5%; Wonder Mom (ABS-CBN) 5.1%; Lovely Day (GMA-7) 8.3%
Pilipinas, Game KNB? (ABS-CBN) 11.4%; Maynila (GMA-7) 8.6%
Wowowee (ABS-CBN) 24.1%; Joey's Quirky World (GMA-7) 10.2%; Eat Bulaga! (GMA-7) 17.5%
Entertainment Live (ABS-CBN) 12.6%; Startalk (GMA-7) 11%
Cinema FPJ: Da King on ABS-CBN (ABS-CBN) 17.8%; Wish Ko Lang (GMA-7) 11.7%
Primetime:
Komiks Presents Nasaan Ka Maruja (ABS-CBN) 23.7%; Pinoy Records (GMA-7) 14.1%
The Singing Bee (ABS-CBN) 26.9%; Kakasa Ka Ba Sa Grade 5? (GMA-7) 17%
Maalaala Mo Kaya (ABS-CBN) 31.7%; Bitoy's Funniest Videos (GMA-7) 22.2%
XXX (ABS-CBN) 22.3%; Kapuso Mo Jessica Soho (GMA-7) 23.5%
Banana Split (ABS-CBN) 14.1%; Imbestigador (GMA-7) 17.2%; Cool Center (GMA-7) 6.9%
TV Patrol Sabado (ABS-CBN) 7.5%; GMA Weekend Report (GMA-7) 4.1%; Walang Tulugan With The Master Showman (GMA-7) 2.4%