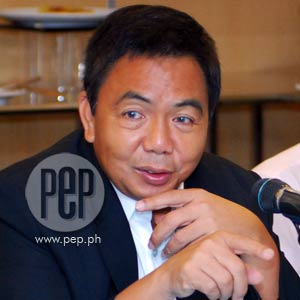 MMDA head, Bayani Fernando, who is also gunning for the presidency in the 2010 elections, plans to release a solo album.
"Actually we don't have serious schedule yet but we're trying to come up with it soon," he told PEP (Philippine Entertainment Portal) about a recording session for the album.
Photo: Courtesy of Team BF
MMDA (Metro Manila Development Authority) Chairman Bayani Fernando is a man of many contradictions.
Popularly known for his no-holds-barred conduct in the field of public service, the former Marikina mayor is a self-confessed "singer" who loves to show off his singing voice to close friends and relatives.
The public had the chance to witness the showman side of Bayani in 2008 when he joined the second season of GMA-7's interactive reality-based singing competition Celebrity Duets, where he emerged as the winner.
PEP (Philippine Entertainment Portal) had the chance to talk to Chairman Fernando earlier today, June 3, at the Astoria Plaza in Pasig City where a press conference was organized to launch the MMDA chief's official website. The audience was composed of persons from various fields, though all share a common passion for cyberspace and technology.
The press conference also gave Chairman Fernando the chance to share his agenda should his presidential bid in the 2010 national elections push through.
TAMING THE TOUGH IMAGE. Throughout his public service career, Bayani has earned the reputation as a strict and strong-willed leader. While this gung-ho style of leadership was met with little to no resistance in Marikina (which benefitted the city tremendously) during his tenure as mayor, his policies as MMDA Chairman made him both hero and villain in the eyes of the public.
Joining and eventually winning Celebrity Duets presented him in a different light.
"It proved that tough guys also sing!" he chuckled when PEP caught up with him after the press conference.
He added, "It softens somehow the image, kasi masamang isipin ng tao na ako'y matigas. Because one thing that I'd like the people to know is that behind this façade is a kind person.
"As a matter of fact, I have not committed to jail anyone and most of all, I have not killed anyone or ordered the killing of anyone."
SINGING CAREER. Chairman Fernando—who also heads the Metro Manila Film Festival committee owing to his position as MMDA boss—revealed his plan to come up with a solo album ("My contribution to the world of music," he stated in jest at the presscon proper) in the immediate future.
"Yeah, we're preparing one album," he confirmed to PEP. "Wish me luck."
Asked about the content of the upcoming record, Chairman Fernando replied, "Probably some new songs. Original compositions."
Though there is still no projected release date, the engineer turned public official wants his debut album out "as soon as possible."
We also inquired if he is planning to get a celebrity endorser to boost his presidential campaign.