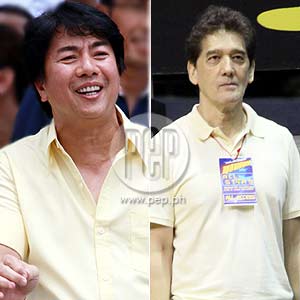 Mr. M (right) about Willie: "All he wanted to do was to get the video of the wake off the air: either you air the wake or air Wowowee, not both, because it would be disrespectful... what with girls dancing, enjoying ourselves here while the wake of a beloved President and a national icon was being held."
Photo: Noel Orsal
On August 3, the Monday when the body of former president Corazon Aquino was transported in an emotional procession from La Salle Greenhills to the Manila Cathedral, an unexpected tempest was brewing in ABS-CBN. The station had been airing its coverage of the death of Tita Cory—the name given to the former president by a grateful nation—since August 1, the day she died from complications wrought by colon cancer. Two days later, the network's coverage rose to fever pitch as throngs lined the streets where the flatbed truck carrying her flag-draped coffin was to pass.
Throughout its coverage, the station would decide when to preempt its regular shows for its news coverage and again decide when to revert to regular programming. The same held true for its popular lunchtime show, Wowowee, hosted by Willie Revillame, who is quietly considered within the network as its prized entertainer and host.
But what transpired for a few quick moments during the show has since caused a firestorm. There is now an online signature campaign to ban Willie from television, initiated by a private citizen, which a national daily says has reached "11,978 supporters since going online on Wednesday [August 5]." Even PEPsters have been weighing in with their comments, nearly all of them negative for Willie.
To explain this fast-growing and emotional issue, PEP (Philippine Entertainment Portal) asked for an exclusive interview with Johnny Manahan, a.k.a. Mr. M, who heads Star Magic, the country's most successful talent management company and ABS-CBN's talent management arm. More pertinent to the issue, Mr. M is the Wowowee director. He thus speaks from firsthand knowledge of the incident, although it must be said that he speaks here not as part of the network officialdom but as Mr. Revillame's personal friend and ally.
What is striking about this interview is the fact that Mr. M is also known in the entertainment industry as a man who grants interviews very rarely and always with a heavy heart, being naturally wary of the entertainment press that has not always captured his views accurately in the past. He is also known to industry insiders as saying only what he believes in, and what he cannot support in public he has a record of simply keeping mum about.
Here is Mr. M's narration of this latest issue in the life of the beleaguered Mr. Willie Revillame.
PEP: What really happened? How did all this brouhaha start?
Mr. M: "Early Saturday morning [August 1], Joyce Liquicia, Business Unit Head of ASAP, informed us of Cory's passing. Kailangan raw ma-bump off three portions of ASAP to give way sa isang tribute na naihanda nila for over a week.
"Tinawagan ko agad si Willie and asked, 'Alam mo na ba?' Willie answered, 'Ang ano?' I replied, 'Namatay na si Cory. Ano ang gagawin natin para sa show mamaya?' Nagulat si Willie. Pagkatapos ng ilang sandali, Willie said, 'Wala muna ang opening na sayahan, Direk. Lalabas ako at hihingi ako ng one minute of silence bilang respeto kay Cory. Pagkatapos kakanta ako ng 'Munting Hiling.' Makabagbag-damdamin 'yon at tama lang para sa isang parangal kay Cory.'
"Sanay naman kami sa live show at marunong naman kami mag-improvise. Maganda ang kinalabasan at nakakaiyak ang ginawa naming five minutes tribute para kay Cory. Willie spoke, in-ad lib lang niya ang isang munting eulogy in plain words and in his own inimitable way, then kumanta siya. Nilapat namin ang ilang video materials ni Cory at pagkatapos ng kanta balik kami sa regular show.
"Sabado ito at sinalaysay ko ito para malaman ng lahat na ramdam ni Willie ang paglisan ni Pangulong Cory.
"Willie had a very deep respect not only for Kris Aquino na kasama niya sa industriya but also for President Cory. When she was alive, ilang beses na ipinaabot ni Pangulong Cory ang pasasalamat niya kay Willie for mentioning her name in the show and for always being gallant in praising her.
"Willie has been respectful about major personages. I never heard him disparage any personality in public or private. And among the artists I have known in 35 years, there is none more gracious than Willie in his treatment of guest performers or personalities on his show.
"Once in a while, because of snafus created by the staff and crew, he blows up on air. Because he is perfectionist, he rehearses more than anyone I know. He expects everyone to know the plan because he goes into a trance doing the show and any slight divergence from the plan breaks his trance and affects the performance.
"Monday morning [August 3], I arrived at the studio after following the live telecast of the wake in Greenhills. They were about to move Pres. Cory's remains to Manila Cathedral and I was closely monitoring events at about 11:30 a.m. We were advised that the show was going to be late that morning. We were told we could be on air by 1 p.m or 1:30 p.m. However, I doubted this and suggested that we go ahead and TAPE the show and air it at whatever time they turn it over to us.