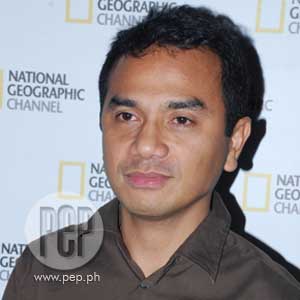 Director Yam Laranas said he chose to make Asia's Titanic, a documentary about the Doña Paz tragedy, because it was one of the Philippine events that struck him.
"It stuck with me for a long time na parang, how can such a thing happen? Around 4,000, 5,000 deaths on a shipping disaster that happened in a clear night, calm seas. Why? Siguro out of curiosity... it stuck with me. And then I wanted to do the documentary," the director explained.
Photo: Nimfa Fajardo
Another Filipino production is all set to make Pinoys proud.
Direk Yam Laranas, one of the few Filipino directors who has already directed a full-length feature in Hollywood, is the head of Asia's Titanic, the first Filipino-produced full-length documentary for the National Geographic Channel (NGC).
The cable channel is known for producing high-quality shows about science, nature, culture, and history. To be able to produce a documentary for NGC, the filmmaker must be able to pass rigorous screening administered by its top executives.
Applicants to the screening process must pitch any topic that they feel will make a good documentary. If chosen, the filmmaker is given a grant that will cover the production cost of the proposed project, and a chance to premiere the finished film worldwide.
Direk Yam was one of the 15 Asian producers given the grant in 2004, out of more than 300 filmmakers from Asia who competed for the slot. It was the first time for an all-Filipino team to receive the grant.
The director's winning proposal was for a documentary on the MV Doña Paz tragedy. MV Doña Paz was a passenger ship that claimed the lives of more than 4,000 passengers when it collided with an oil tanker, off the shore of Mindoro Island, just five days before Christmas in 1987.
The sea mishap is regarded as the world's worst peacetime maritime disaster due to its death toll, beating the Titanic tragedy that claimed around 1,500 lives when it sank in 1912.
ASIA'S TITANIC. PEP (Philippine Entertainment Portal) talked to the director last Tuesday, August 18, at the documentary's media preview in Rockwell Cinema, Power Plant Mall in Makati. Direk Yam said he was very proud of the "all-Filipino" distinction.
"Yung full-blown production that was really produced by an all-Filipino team, ito yung unang-una. I think we should be very, very proud of it... We can be at par with the standards of the world," Direk Yam said.
The director and his team chose to film the said sea mishap because they feel its a story that the world needs to know.
"Ang claim natin is that it's the world's worst peacetime maritime disaster ever. In the world, nothing can beat this. Kung may world record sa pinakamaraming namatay, 'eto na. So we wanted the story," he explained.
Direk Yam said the documentary took more than three years to make because they were aiming for quality. Besides following a Bible-thick guideline supplied by NGC, the team also worked for precision, cross-checking every fact they acquire. Stock footage was also hard to get.
"Once you try a story like this, you need to be very careful kasi a lot of lives have been lost. You need to tell their story, but at the same time, you need to be factual. We cannot claim anything unless we have it cross-checked by experts," the director said.
Asia's Titanic will premiere on the National Geographic Channel on Tuesday, August 25, at 9 p.m.
INTERNATIONAL HORROR MOVIE. PEP also congratulated Direk Yam for The Echo, the horror movie he directed in Hollywood last year, now slated for a Philippine premiere on September 23.