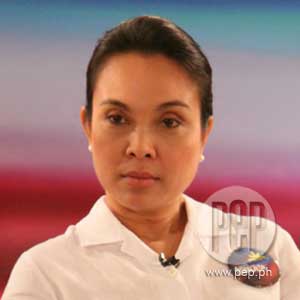 When Senator Loren Legarda declared last July 12 her desire to run for President, she said her only possible alliance was with former President Joseph Estrada.
She refused to say, however, when she was asked today, August 26, whether she would agree to running only for Vice-President now that Estrada had expressed that he was "99.9 percent sure" he will run for the post again.
"Patuloy ang aming pag-uusap," Legarda said.
Photo: Noel Orsal
The numbers are slipping for Senator Loren Legarda, but she does not mind.
The senator said yesterday, August 26, at the premiere of her animated film in Shangri-La Mall, that she's unperturbed by the decline of her ratings in a monthly Pulse Asia survey that measures the winnability of presidential aspirants.
Senator Legarda told the media that even though ratings are important for a candidate planning to run for a public office, they do not constitute the whole electoral landscape. The solon declared last month that she intends to run for President in 2010.
Results of the Pulse Asia poll released last Tuesday predicted that only six percent of voters would support Legarda's presidential bid. The figure was down by eight percent from the results in August last year.
The poll also declared that Senator Manny Villar will win the presidential race if the May 2010 elections were done today. Villar, who made his billions through real estate, garnered 25 percent.
Former President Joseph Estrada, meanwhile, trails not far behind with 19 percent. Other top placers include Vice President Noli de Castro (16 percent), Sen. Francis Escudero (12 percent), and Sen. Mar Roxas (11 percent).
The nationwide poll, which was conducted using face-to-face interviews from July 28 to August 10, covered 1,800 adults. It had a margin of error of plus or minus two percentage points.
Senator Legarda explained that the rise in the ratings of other aspirants may be partly because of their exposure in television ads. At present, the boob tube is the most powerful medium in terms of reach. As early as now, the two TV giants, GMA-7 and ABS-CBN, have been airing the TV plugs of Villar and Roxas, including the informmercial of De Castro for Pag-ibig Housing Loan.
"Alamin natin kung bakit nagkaka-ratings... dahil ba sa exposures, sa ads, o ano ba, sa pag-iikot?" asked Legarda.
LOREN'S TV ADS. The lady senator, who started her career as a broadcast journalist, is also a believer of the medium.
i-site.ph, the Philippine Center for Investigative Journalism's data bank on politics and government, released a report on May 2007 indicating that during the campaign for the 2007 elections, Legarda had spent almost 75.9 million pesos for TV ads alone.
One such 30-second plug, which can still be seen in YouTube, shows Legarda interacting with farmers, schoolchildren, and the poor. It carries the message "Loren Legarda: No. 1 sa Senado."
Last year, Legarda was among the first presidential hopefuls who booked spots for her ads. The 15-seconder "Pagbabago," which was shot in slums, featured the senator saying, "Pagbabago... panahon na. Kasama niyo ako." She also produced a 30-second ad for her environmental advocacy.
In March this year, these ads had stopped airing on TV but her pro-environment ads continue to hit radio airwaves.
POSSIBLE VIOLATION? Sec. 80 of the Omnibus Election Code prohibits political propaganda outside the prescribed electoral campaign period. For the presidential and vice-presidential races, the same law prescribes a 90-day campaign period, which will start on February 9 next year.