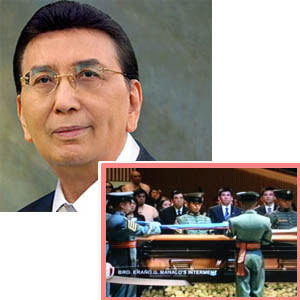 Honor guards from the Philippine Military Academy fold the Philippine flag over the casket of Iglesia Ni Cristo Executive Minister Bro. Eraño "Ka Erdy" G. Manalo (main). Behind them are (from left): Sis. Cristina "Ka Tenny" Manalo (partly hidden), INC Deputy Executive Minister Bro. Eduardo V. Manalo, Bro. Felix Nathaniel "Ka Angel" Manalo, and Bro. Marco Eraño "Ka Mark" Manalo.
Ka Eduardo, 54, is expected to replace Ka Erdy as INC Executive Minister. Ka Eduardo has been in the ministry for 25 years.
Photo: Gemnet.tv (main); screengrab from Net25 (thumb)
On Sunday morning, September 6, Philippine Entertainment Portal (PEP) received a text message from actress and Iglesia Ni Cristo member Gladys Reyes.
The actress expressed how the late INC Executive Minister, Bro. Eraño "Ka Erdy" G. Manalo, had made an impact on her life. "Sa aming minamahal na Ka Eraño Manalo, malungkot man po na di na namin kayo makakasama, makakaasa po kayo na hindi kami bibitiw at mananatiling matatag. Sa aming mga puso ay hindi ka namin malilimutan. Mahal na mahal ka po namin, Ka Erdy!"
In three words, Gladys also described the hordes of faithful gathered at the Central Complex along Commonwealth Avenue, Quezon City: sad, strong, and loving.
Until late last night, INC members continued to arrive (many of them in buses and rented vehicles) and fell in line, hoping to see the Ka Erdy for the last time.
Some of them traveled all the way from Cebu, Camarines Sur, Ilocos, and even abroad—Washington D.C. and Redwood, California, U.S.A., among others.
Some brethren from Europe are still expected to arrive tomorrow, without knowing that Ka Erdy's interment was held earlier, at 12:00 noon. The interment schedule was announced Friday afternoon.
The line to Ka Erdy's coffin already reached as far as New Era High School on Tandang Sora Ave., with the queue going around New Era University campus in a maze.
The public viewing ended at 12:00 midnight, and many of the mourners weren't able to make the cut after standing in line for long hours. But they stayed, not minding the rain, the coldness of the night, the lack of sleep, and fatigue.
If they weren't able to see his face for a final glimpse, they would still want to come near the tomb of their beloved leader—to say thanks or utter a short prayer, or to say goodbye with tears in their eyes.
THE INTERMENT. In a short, simple, and solemn ceremony, Ka Erdy was entombed at the Tabernacle beside the Central Temple today, September 7, a week after he died of cardiopulmonary arrest. The interment was attended by government officials, cabinet members, and a number of dignitaries.
At 9:30 this morning, the two-toned wooden casket was brought to the Sanctuario, also located inside the Central Temple, where ministers, church workers, and Central employees were gathered and given the chance to look at the INC leader one last time.
The members of the Manalo family, wearing either black or Barong Tagalog, were seated on the front rows. Meanwhile, the Tabernacle and the Central main, left, and right wings were already filled with people, watching Net 25's live feed on the giant TV screens.
Outside, tens of thousands of brethren (reports said 2 million were expected to attend the interment) stood in the rain, umbrellas in hand, and waited patiently as their eyes were glued to the giant screens located along the UP-Ayala Techno Hub, in front of the Central Office, and on New Era University grounds.
At 10:20 a.m., President Gloria Macapagal-Arroyo arrived at the Sanctuario with her sons, Representatives Juan Miguel "Mikey" and Diosdado "Dato" Arroyo. Dressed in a cream-colored top and a matching skirt, the President looked at the coffin then sat beside Ka Erdy's widow, Sis. Cristina "Ka Tenny" Manalo. The President stayed not more than half an hour.