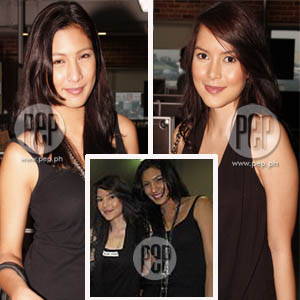 Almost a year after the "sikuan" and "tapakan" issue, a photo—taken at Summit Media in Mandaluyong City—shows that all now seems to be well between Bubbles Paraiso (left) and Jewel Mische.
Photo: Elyas Isabelo Salanga (main images); Annette Gozon-Abrogar (inset)
Things seemed to come to a standstill when Bubbles Paraiso stood up and passed by the table where Jewel Mische was seated.
Were they going to snub each other?
But Bubbles bent down to give the Starstruck 4 Ultimate Sweetheart a kiss on the cheek, and a surprised Jewel returned the courtesy. About 30 minutes later, they posed for photos with GMA Films president Annette Gozon-Abrogar.
Those were some of the sidelights of the meet-and-greet session that took place yesterday, September 17, among the editors of Summit Publishing and the executives and some talents of GMA Artists Center.
BACKSTORY. It will be recalled that the two figured in a dispute during GMA-7's inauguration of its new studios last October 17, 2008. Bubbles, according to Jewel, hit her "not once, but several times, in different locations during that event" (click here for the related article).
This was denied by Bubbles, who claimed that she never elbowed Jewel or stepped on her gown, or did anything untoward to the actress (click here for related article).
The story made headlines in PEP, but it inevitably died down as the two Kapuso stars chose to keep mum on the issue.
It should be noted that at the time of the incident, Jewel Mische was being talked about as "stalking" Richard Gutierrez, whose mother and talent manager, Annabelle Rama, is also the manager of Bubbles Paraiso. Bubbles allegedly sent a message to Jewel saying that the latter was not welcome to the fold. Bubbles denied sending such a message. Jewel went on record to say that she did, on television no less.
Showbiz was rife with talk that Bubbles had the nerve to try to unnerve Jewel because, at the time, the Rama family clearly did not approve of Jewel for Richard. Annabelle was said to have her sights on the daughter of Sharon Cuneta, KC Concepcion, for Richard. Richard at the time was rumored to be courting KC, with whom he was appearing in big projects. KC and Jewel have facial similarities.
The other side to this story is that it was Richard who got interested in Jewel, or eventually became interested in her, or it had become a mutual attraction between them, because the two are now said to be-in one of the most guarded secrets in showbiz-an item.
As proof, the word is that the first person Richard called after his unfortunate May 22 car accident was Jewel, and that it was Jewel that he wanted by his side to nurse him back to health. Another buzz in the Kapuso network is that Jewel, who had a big chance to rise in 2007 as StarStruck Ultimate Sweetheart, has had a series of false starts in her career because Richard imposes many restrictions on what she can or cannot do onscreen.
It is also said that, at this stage, the Gutierrezes, if they still have objections to Jewel, have kept largely silent, in deference to Richard, the major star in the family.
THE FIRST KISS AND MAKE UP. But it was actually last June 19, during the 59th anniversary celebration of GMA-7 at the Araneta Coliseum, that the reconciliation between Bubbles and Jewel took place.
Without photographers or reporters present in the red carpet area, Bubbles took the opportunity to bury the hatchet. She quietly approached Jewel and said sorry.