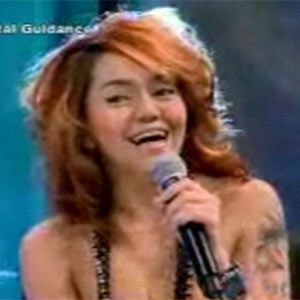 Sexy comedienne and host Ethel Booba disappeared from the scene after being involved in controversial issues including her long-time relationship with ex-boyfriend Alex Crisano. This time around, she surfaces with a new update on her life and a revelation concerning Alex that would finally end an already old issue.
Photo: Screen grab from gmanews.tv
Comedienne Ethel Booba used to make TV audiences double up with laughter as she quipped and wisecracked in every Extra Challenge! episode. Her sexy appearance, matched with the attitude of playful English-deficient conversation skills, quickly turned her into a household name.
With fame, of course, comes controversy. And as fans would remember, Ethel was just full of it.
Her chaotic on-off relationship with PBA (Philippine Basketball Association) player Alex Crisano of Barako Bull and a small number of crass arguments with other stars made Ethel very much talked about.
The news died out; Ethel's career followed suit and faded from the limelight. No recent news has popped out and the controversial sexy comedienne apparently has become part of showbiz history.
But yesterday, November 8, Ethel resurfaced on GMA-7's Showbiz Central from the depths of obscurity to give an update on her relationship with Alex and the recent happenings in her life.
ADDICTED TO COSMETIC SURGERY. Ethel said she's doing well right now. "I'm happy!" she quipped.
There are reports saying that she recently had a botched operation on her face, involving hydrogel. Is this true?
"Noong pinalagyan ko kay Dr. [Manny] Calayan, pinipilit ko [siya]. Pero ayaw niya. Sabi niya n,a 'Ang ganda mo na na ganyan.' Tapos sabi ko na parang chunky iyong dito [points to her cheek]," Ethel recounted.
Ethel's persistence in making changes on her body made people think that she has become addicted to cosmetic surgery. What's her say on this?
"So much!" she admitted.
Before her cheek, she had her nose bridge improved. After that, she explained that one change eventually led to another and another until she became, in her own words, "sakit na nga daw talaga."
THIS TIME, SHE LEFT HIM. Fans of Ethel may have kept tabs on her colorful relationship with Alex with its controversial on-off status. Ethel revealed that their breakup this time is for good.
"For good na talaga," she said. "Kasi nagkaroon ng third party, pero ako 'yong nagkaroon ng third party. Before siya 'yong may third party, fourth party, di ba? Ngayon, noon kami, doon ko lang na prove sa sarili ko na hindi ko talaga kaya..."
Does this mean she cheated on Alex?