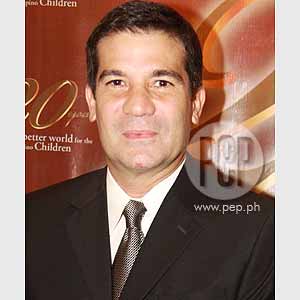 "You know, they say people have lost hope. I haven't lost hope, e. We just have to get the right person in the right place at this time," said Edu Manzano about agreeing to be the running mate of Lakas-Kampi-CMD presidential candidate Gilbert "Gibo" Teodoro.
Photo: Noel Orsal
Actor-TV host Edu Manzano filed his Certificate of Candidacy (CoC) at the Commission of Elections (Comelec) earlier this morning, December 1, for his vice-presidential bid in the 2010 elections. He was with running mate, Lakas-Kampi-CMD standard bearer Gilbert "Gibo" Teodoro, who also filed his CoC.
Before the filing of their CoCs, there were reports that the administration party was choosing among Edu, Senator Ramon "Bong" Revilla, Jr., and former Senator Loren Legarda to be Gibo's running mate. The speculations stopped when the Lakas-Kampi-CMD ticket formally announced the former Optical Media Board chairman as their vice-presidential candidate. (CLICK HERE to read related article.)
However, in an interview with PEP (Philippine Entertainment Portal) at BoardWalk's 18th anniversary celebration, Edu said that Gibo had asked only him and Vice President Noli de Castro.
"I talked to Gibo about that. Unang-una, Gibo now is the chairman of Lakas-Kampi. He reserves the right to choose kung sino ang gusto niyang maging vice president o kaya ka-tandem. That is his prerogative being the presidential candidate. He also told me that he only spoke to two people, Noli de Castro and myself, he spoke to nobody else," he told PEP.
NO SECOND THOUGHT. Edu said he never had a second thought in agreeing to Gibo's offer.
He reasoned out, "For one, I really believe that Gibo is the best choice, best candidate today who's vying for presidency. I believe he's the most competent, the most qualified. I've worked with him in the past, he's got fantastic work ethics. And anywhere in the Congress, you ask them about Gibo, the guy exhibited excellent leadership."
The former Umagang Kay Ganda host is aware that his running mate is falling behind other presidential candidates in several surveys. But he remains positive by saying that people still haven't heard about the potentials of Gibo as a leader.
He explained to PEP, "The only reason his numbers are down I guess it's... Aside from what they say about the stigma arising being with the wrong party, people should take it in a different perspective. The vote is not for the party. The vote is for him and how he will lead the party. We're talking about visions, advocacies, and platforms of the government.
"You know, I felt, if I were to be his vice president, I would be in the perfect position to take him all over the country, espouse his values and his ideas, and people will give him a second look, and hopefully get a better chance."
He reiterated why he chose to be with Lakas-Kampi-CMD tandem instead of just running for a senatorial seat in May 2010.
Edu said, "You know, they say people have lost hope. I haven't lost hope, e. We just have to get the right person in the right place at this time."
GOING FOR THE VICE PRESIDENTIAL SEAT. Edu also explained why he does not regret running for vice president instead of the senatorial race, which was reported earlier.
"Sabi nga nila, I would have had an easy slide into one of the senators. It would have been easy, a walk in the park daw," said Edu.
He continued, "But I felt the presidency is more important than my own personal ambition. So, I said, 'Hey, I like the guy.' People, again, manifest their reservations about me because of me being in the entertainment industry. But people forget or they choose to forget that I was also in a public sector for a long, long time. I've worked with the military. I was the vice mayor of Makati. I was the national president of the Vice Mayors' League of the Philippines. I think, I've been there, done that."
Edu also stressed that he and Gibo wanted to veer away from the traditional way of campaigning.