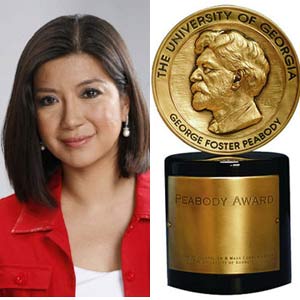 Kara David's I-Witness documentary "Ambulansiyang de Paa" will be honored in the 69th Peabody Awards. The awarding ceremony will take place in New York City on May 17.
Photo: GMA-7 (Karen)
The I-Witness documentary "Ambulansiyang de Paa" is among the 36 recipients of the 69th Peabody Awards this year. This episode of the GMA-7 show was the Philippines' lone entry in the prestigious award-giving body.
The official website of the Peabody Awards described the documentary thus: "Condemning deplorable conditions while celebrating neighborly valor and ingenuity, the report shows how people in a poor village carry their sick and injured over dangerous terrain to distant medical care using 'ambulances on foot.'"
Aired on March 2009, "Ambulansiyang de Paa" was hosted by Kara David and directed by Nowell Cuanang. It chronicled how residents of the Mangyan community of Apnagan in upland Oriental Mindoro use woven hammocks to carry sick people to distant hospitals because there is no health center in their area.
In a phone interview with GMA News, Kara expresssed her gratitude to the Peabody Awards for acknowledging her work. "Malaking karangalan yung manalo ka ng Peabody or something na hindi mo naman inisip, you just wanted to help. Gusto mo lang ipakita yung buhay ng mga Mangyan doon at yung hirap na pinagdaraanan nila," she said.
Kara is the daughter of veteran columnist Randy David.
In 1999, GMA Network was honored with a Peabody award for investigative reporting in its "outstanding commitment to investigative reporting and for its efforts to achieve social change."
The 1999 Peabody honored the I-Witness episode "Kidneys for Sale" by Jessica Soho and Jay Taruc's "Child Labor" story on the now defunct news magazine Brigada Siyete.
It is interesting to note that HBO's "Thrilla in Manila," a documentary that probes the hype, mythology and meaning of the politically charged Muhammad Ali-Joe Frazier fights in the early 1970s, was also honored with a Peabody Award this year.
Diane Sawyer will host the 69th Annual Awards ceremony on May 17 at the Waldorf-Astoria in New York City.
The Peabody Awards recognizes distinguished achievement and meritorious public service by TV and radio stations, networks, cablecasters, webcasters, production organizations and individuals.
The board that chooses this year's recipients is composed of television critics, broadcast and cable industry executives, academics and experts in culture and the arts. All entries become a permanent part of the Peabody Archive in the University of Georgia Libraries.
LIST OF WINNERS. Here is the complete list of winners of the 69th Peabody Awards:
Modern Family (ABC)
Twentieth Century Fox Television in association with Levitan Lloyd Productions.
This wily, witty comedy puts quirky, contemporary twists in family ties but maintains an old-fashioned heart.


The Late Late Show with Craig Ferguson: An Evening with Archbishop Desmond Tutu (CBS)
Worldwide Pants, Inc.
As this fascinating, often funny interview attests, the Scottish-born Ferguson has made late-night television safe again for ideas.


Noodle Road: Connecting Asia's Kitchens (KBS1 TV)
Korean Broadcasting System
The who, where, what, why and how of Asia's culinary staple, rolled into one visually delicious hour.
A Hidden America: Children of the Mountains (ABC)
ABC News
A powerful documentary shot in the hollows and house trailers of Appalachia reminds us that not all critical problems lie in "developing" nations.