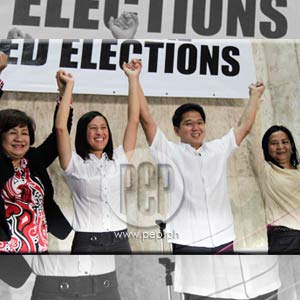 Herbert Bautista and Joy Belmonte won an overwhelming mandate from their constituents in Quezon City. CLICK HERE to view photos taken during the proclamation held at the Quezon City Hall.
Photo: Paul Mata
Thunderous applause and wild cheers greeted Herbert "Bistek" Baustista as soon as he was proclaimed Mayor of Quezon City. The announcement was made a little before 12 noon at the session hall of the Quezon City Hall today, May 11, a day after the first automated election in the Philippines.
His running mate, Joy Belmonte, was also declared winner of the vice- mayoralty race. Joy is the daughter of incumbent Mayor Sonny Belmonte.
Herbert and Joy had been waiting all morning for the proclamation by officials of the Commission of Elections (Comelec) after seeing the early results of the votes cast for them. Other Metro Manila cities, like Manila and Makati, had already declared the winners for the local positions.
Herbert's vote total was 497,965. His rival for the mayoralty post was former Secretary Mike Defensor who tallied with 126,246.
Joy's vote total was at 501,129 while her rival for the position, actress and incumbent Councilor Aiko Melendez, had 121,941 votes.
The second district of Quezon City had its share of celebrities winning as councilors led by Alfred Vargas, Precious Hipolito-Castelo, and Roderick Paulate. Gian Sotto, only son of Tito Sotto, won as councilor in the 3rd district of Quezon City.
Mayor Sonny Belmonte was also proclaimed as winner of the congressional post for the 4th district of Quezon City. He was welcomed with chants of "Speaker! Speaker! Speaker" by the Quezon City Hall employees.
Other celebrities who ran for the elections included Ara Mina (councilor, 2nd district), violinist John Lesaca (councilor, 3rd district), comedian-host Arnell Ignacio (councilor 1st district), and character actor Jaime Fabregas (councilor, 3rd district).