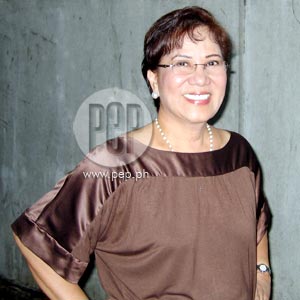 GMA-7 SVP for Entertainment TV Wilma Galvante also faces a grave slander suit filed by talent manager Annabelle Rama.
Photo: Mark Angelo Ching
GMA-7 top executive Wilma Galvante testified on Friday, June 18, for the "Damages with application for temporary restraining order [TRO] and/or writ of preliminary injunction" case she filed against talent manager Annabelle Rama.
In her 40-page civil complaint filed on March 17, 2009, Galvante said she filed the P7-million civil case after Rama harassed and threatened her through text messages and media interviews. Rama had threatened her by saying she will get revenge, Galvante added. (CLICK HERE to read related story.)
The threats reportedly resulted from an incident in February 2009, when Galvante had a conversation with actor JC de Vera, Rama's talent, in her office in GMA-7.
In several media interviews, Rama accused Galvante of badmouthing her in front of the actor during the short meeting. However, the GMA-7 executive denied this accusation. (CLICK HERE to read related story.)
(In response, Rama filed a P25-million grave slander case against Galvante. The case's dismissal has recently been reversed by the Department of Justice.)
TESTIMONY. Galvante and her lawyer, Atty. Alfred Villamor, arrived at Branch 215 of the Quezon City Hall of Justice at around 3 p.m. Atty. Agnes Maranan, on the other hand, represented Rama.
Judge Maria Luis Padilla received Galvante's testimony. The hearing only lasted less than 30 minutes.
Galvante started her testimony by describing her work in GMA-7. The network's SVP for Entertainment told the court she is "directly in charge of all productions for all channels of all production units... and all the talents commissioned" for all projects.
Next, Galvante described the incident that led to the case.
On February 16, 2009, Galvante narrated, she had a short conversation with actor JC de Vera, Rama's talent, in her office in GMA-7.
De Vera had the conversation with the top executive after he learned that Rama was pulling him out of his new show Obra, which had just finished its story conference that afternoon in the network's Concept Room on the seventh floor. Galvante said the actor cried after learning about his manager's decision.
Because of the actor's visible breakdown, GMA-7 executives Redgie Magno, Marivin Arayata, and Lilybeth Rasonable, who were present on the same floor, decided to bring him to Galvante's office, which was adjacent to the Concept Room.
Galvante said it was her request to have the actor brought to her office.
"Marivin entered my office and she was saying, 'Ma'am Wilma, si JC umiiyak sa labas,'" Galvante recounted. "My first impulse was to tell her, 'Nakakahiyang umiiyak siya sa labas, maraming tao, papasukin niyo na lang rito.'"
Galvante said it was Arayata who informed her that De Vera cried because "pinull-out siya ni Tita Annabelle sa Obra."