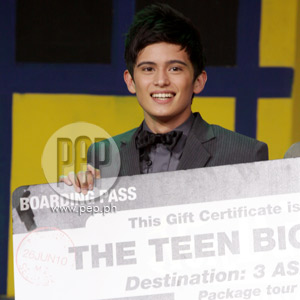 James Reid, The Dashing Dude from Australia, received 19.75 percent of the total votes in Pinoy Big Brother Teen Clash of 2010.
Photo: Noel Orsal
Teen-ternational housemate James Reid was proclaimed the Big Winner of Pinoy Big Brother Teen Clash of 2010 last night, June 26. The finale of ABS-CBN's reality show was held at the Ynares Sports Arena in Pasig City.
The Dashing Dude from Australia got 19.75 percent of the total votes followed by Ryan Bang (18.7 percent), Fretzie Bercede (15.99 percent), Devon Seron (15.74 percent), Ivan Dorschner (15.14 percent), and Bret Jackson (14.68 percent). This edition marks one of the closest races ever in PBB history.
James, Ryan, and Bret are the teen-ternational housemates, while Fretzie, Devon, and Ivan are the Pinoy housemates; although Ivan is half-American.
James took home P1 million cash, a condo unit worth P3 million, a water-refilling franchise worth P1.5 million, an Asian trip for two, and a 46-inch LCD television.
The rest of the Teen Big Six also received cash prizes and a laptop each.
During his stay inside the PBB house, James was rushed to a hospital when he had difficulty breathing and experienced chest pain. Doctors diagnosed him with costrochondritis or muscle pains in the rib/chest area. (CLICK HERE to read related article) Fortunately, he was able to return to the PBB house. Angelo Pasco, another housemate who was hospitalized, was unable to return in 24 hours so he was evicted from the reality show.
During the finale night, ABS-CBN also announced that it will soon air its newest reality show, The Biggest Loser: Philippine Edition.