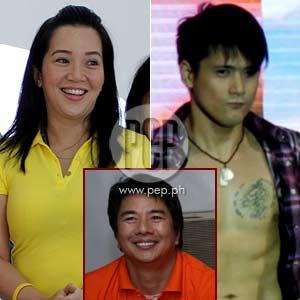 Kris Aquino (left) and Robin Padilla (right) will soon have their separate noontime shows in ABS-CBN. According to an ABS-CBN insider, their shows will replace the timeslot of Wowowee, the noontime show hosted by Willie Revillame (inset).
Photo: Noel Orsal (Kris & Willie) & Paul Mata (Robin)
Insider information from the Kapamilya network has it that its daytime programming will be changing radically by September this year.
Umagang Kay Ganda is still expected to open the ABS-CBN morning juggernaut. No word about changes in the show's host composition and news-feature format.
Simply KC is expected to coast along, to go by the network talk that KC Concepcion is being groomed to be the next Kris Aquino.
Showtime, which has a format and games and gimmickry very close to Wowowee will likely retain its one-and-a-half-hour programming.
Now, the big change happens: Kris Aquino is expected to host a noontime game show. This effectively replaces Wowowee from the 12:00 noon timeslot.
Kris, who has announced her departure from showbiz talk shows The Buzz and SNN, has already announced that she was open to game shows and teleseryes in her home network. The noontime game show fits her requirements and it's an exciting chance for ABS-CBN to give the President's sister a big-time show.
Still, another big change is that Robin Padilla is coming back to daytime programming with his own show. It will be remembered, he pinched-hit for Wowowee host Willie Revillame for two weeks.
Effectively, this programming cancels out long-term existence for Wowowee.
What happens now to Willie Revillame, the Mr. Wowowee?
After the question of whether the five-year-and-a-half-year host of Wowowee had been suspended, relieved, fired, or simply made to take an indefinite vacation—this new development casts even more questions on the fate of the controversial host.
Is Willie frozen? Meaning, his contract, which has one and a half years to go, still exists but he is not being employed? Does he know about this new development? Is there a direct line between the host and ABS-CBN management?
The answers to these questions are expected to unfold in the coming months, especially when the new programs of the Kapamilya network begin to materialize.