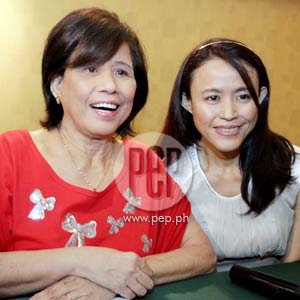 Mother Lily Monteverde (left) and daughter Roselle Monteverde-Teo celebrate the 50th anniversary of Regal Films with the release of Mamarazzi. The Eugene Domingo-starrer will open in cinemas on August 25.
Photo: Noel Orsal
When Mother Lily Monteverde faced the members of the press last night, July 20, she reminisced about the humble beginnings of Regal Films five decades ago.
"I started in 1960, when the dollar rate was one dollar equivalent to two pesos. I bought All Mine to Give for $500," recalls Mother Lily during the presscon held at the Imperial Palace Suites. "Then yung re-issue ng Solomon and Shiva. Ang unang production ng Regal, Kayod sa Araw, Kayod sa Gabi starring Elizabeth Oropesa and Gina Pareño."
Regal also released Japanese movies like Ultraman and Godzilla.
When asked to name the Top 5 films that she produced in the past, the matriarch of Regal enumerated: Relasyon, Broken Marriage, City After Dark, Sister Stella L, and Mano Po 1. Interestingly, three of these movies were topbilled by actress-politician Vilma Santos (Relasyon, Broken Marriage, and Sister Stell L).
Which celebrity brought the most income to her film production outfit? Mother Lily quickly said the name of Maricel Soriano. But when she was asked to specify the celebrity who caused her the most headaches, she declined to give a name. "I can always forgive them," she says about her Regal babies.
Mother Lily reveals that her daughter, Roselle Monteverde-Teo, is now in charge of almost all aspects of Regal Films.
"Now, she is in charge of all...more or less, 85 percent. She is now taking my place."
The film producer will celebrate her 71st birthday on August 19 and for her birthday wish, she says that she wants to stay for another 50 years in showbiz.
ON KRIS AQUINO AND JAMES YAP. Mother Lily was open in saying that she keeps in touch with Kris Aquino and James Yap, who are undergoing a marital crisis right now.
"She [Kris] sends me all these Christian messages. Hindi naman ako nagpapayo sa kanya. I think she knows best," she says.
Does she agree with Kris's decision to file for a declaration of nullity of marriage to James Yap?
"I think it's her choice," says Mother Lily.
As for James Yap, Mother Lily reveals, "He used to go to my house when he was younger. Madalas siya sa bahay because of Dondon. Once or twice ko pa lang siya binigyan ng payo... I just told him to trust in God and that prayer can move mountains."
Mother Lily's son, Dondon Monteverde, is the business manager of James.