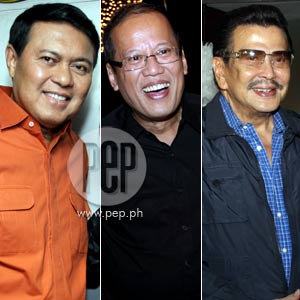 The top three presidential candidates in the 2010 national elections: (from left) Manny Villar, Noynoy Aquino, and Erap Estrada. Noynoy won the race.
According to the PCIJ, Aquino had 96 donors with a total of P440.05 million donations; Erap had 24 donors with a total of P227.5 million donations, while Villar spent his own money amounting to P431.56 million during the campaign.
Photo: Noel Orsal
As a veteran fund-raiser for presidential candidates tells it, there are fewer awkward moments in the campaign than a meeting between the candidate and a potential donor, especially if they are seeing each other for the first time.
Recalling one such meeting ahead of the recent May 10 polls, the fund-raiser says that what actually lasted a fleeting 15 minutes seemed to take forever. "They talked about everything else except the money," the moneyman tells the Philippine Center for Investigative Journalism (PCIJ) on condition of anonymity. "At the end, when there was nothing else to talk about, the donor just said 'By the way, here's something for the campaign.'"
Aiming for the presidency costs a lot, so it is rather odd for candidates and their donors to avoid talking more frankly about funding, and whether it is ever enough for the endless needs of a nationwide campaign.
Any open discussion on money, however, seems to be taboo in Philippine political culture. Former banker Antonio Gatmaitan, recalling an episode from the 1960s, says he witnessed a meeting where the donor did not mention or refer to the money at all. After engaging in casual talk with the candidate, he recounts, the donor stood up and headed for the door, leaving behind an attaché case full of cash.
If large donors are shy talking about money with candidates, many if not most are even more hesitant to publicly acknowledge their donations to candidates' election campaigns. Not surprisingly, business leaders find the official list of campaign donors submitted by the presidential candidates and political parties to the Commission on Elections (Comelec) to be "incomplete."
Based on what they have seen, they say the records do not include the names of fellow businessmen known to be big sources of campaign donations. They also suspect that some of the donors listed were just "fronts" for other, wealthier people who did not want their names in the list.
A scrutiny of the financial reports filed by the presidential candidates and political parties alone yields many reasons for skepticism that these present a full picture of how the May 10 presidential campaigns were funded.
CIRCLE OF 308. If the candidates and parties' submissions are to be believed, just 308 people out of a total 50.7 million registered voters funded what is considered as the country's costliest presidential campaign yet. The number is smaller still—48—if only the donors who gave P10 million and above are counted.
Yet, these four dozen donors account for almost 80 percent of total funds of P1.58 billion raised for the campaign, including the candidates' own money. (In contrast, US president Barack Obama had 690,199 individual donors in 2008, according to the US Federal Election Commission)
The figures were added up from reports submitted by seven presidential candidates—then Senator Benigno 'Noynoy' Aquino III, former President Joseph Estrada, Senator Manuel B. Villar Jr., former defense secretary Gilberto Teodoro Jr., environmentalist Nicanor Perlas, former Senator Richard Gordon, and former Senator Maria Ana Consuelo 'Jamby' Madrigal— and the three major political parties—Liberal Party, Nacionalista Party, and Lakas-CMD/Kampi Party.
Villar and Madrigal claimed they had no donors, and used only personal funds for their campaigns.
The other candidates and parties did not submit their reports even after Comelec had extended the deadline to last June 25. As of this writing, the Comelec had issued notices to Bangon Pilipinas Movement standard bearer Brother Eddie Villanueva and Ang Kapatiran Party's John Carlos de los Reyes, asking them to explain their failure to submit their election expenses reports.
GROSSLY UNDERSTATED. While it is generally presumed that big-time political donations are mainly the realm of wealthy people, the extremely low number of campaign donors suggests that the record of donations submitted to the Comelec may be grossly understated.
"We easily get more than 300 donors for our fund-raisings for books and computer donations to public schools," says Ayala Foundation executive vice president and National Movement for Free Elections (Namfrel) stalwart Bill Luz, who like many in the business community harbors doubts that candidates and political parties submitted complete donors' lists to the Comelec. "In the case of Typhoon Ondoy and Pepeng and other calamities, we (had) thousands of donors."
Wealthy Filipinos certainly outnumber the pithy list of the 308 combined campaign donors of the seven presidential candidates and three political parties.