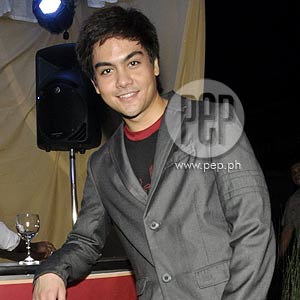 New Belo family member Marco Mañalac thanked the Belo Medical Group for teaching him how to take care of himself.
"It's a new relationship, but they have been so generous. They've taught me to, yun nga, be more confident," he said.
Photo: Sany Chua
Marco Mañalac is angling for greater success in showbiz.
Marco, 21, a theater actor and former TV host, talked to PEP (Philippine Entertainment Portal) last August 10 during the relaunch of the Belo Medical Clinic's Greenhills branch. He is a new member of the Belo family.
Marco recently gained talk-of-the-town status when he shed off his clothes for the local adaptation of the Broadway play Equus, where he played a mentally disturbed young man. He was also among the top 12 finalists of the recently-concluded MYX VJ Search 2010.
"No regrets," answered Marco when PEP asked him about his role in Equus. He said he does not fear being typecast in roles like this because he wants to be flexible as an actor.
"I want to be like Johnny Depp," he said.
He admitted, however, that Equus consistently clashed with his audition to become a MYX VJ. He said this "problem" might be the reason why he lost.
"It was really hard!" he exclaimed. "I sacrificed a lot for MYX! I even gave up one show of Equus for MYX. They told me that I didn't have any focus on what I wanted to do: theatre or MYX? I thought that I have different aspects to myself. But I realized towards the end it worked against me that I was doing many things."
He also denied remarks that he was planning to use MYX as a stepping stone. As a kid, Marco had hosted Whacked and In the Can on Nickelodeon Asia.
"I really wanted it badly. I almost had it but I didn't get it," he said, adding that hosting is his first love.
But Marco said he's happy for the three new MYX VJs Robin Nievera, Ton Vergel de Dios, and Julz Savard.
"I'm so happy for the three. They deserve it, and they're really great people. I think they fit what MYX is now, which is alternative rock. They're all alternative rockers so they fit very well, and I'm happy for them," he said.
CAREER PLANS. So what's next for Marco Mañalac? His manager, Gian Carlo Vizcarra, gives the answers.
"We're in the writing stage for an indie movie wherein he would play a young man falling in love with his female teacher. It's a romantic comedy," Vizcarra said.
Marco had a guest role in Star Cinema's latest movie Cinco, and Vizcarra says Marco has another movie with Star Cinema in the works.
"There is a movie for Star Cinema... No details yet. Supporting [role] muna. He has to perfect his Tagalog, build... mag-puff up ng kaunti, at last mag-tone siya ng body niya. And then kaunting acting lessons here and there," he said.