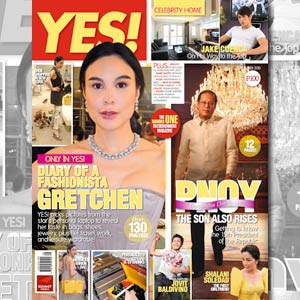 "She's a star. I can make her wear a sando, something cut out like a sando, and it will look good," says fashion designer Inno Sotto about Gretchen Barretto, here seen on the cover of YES! Magazine.
Photo: Courtesy of YES!
Gretchen Barretto has been known in showbiz for the longest time as a major style icon. Inevitably, wherever Gretchen appears—whether in public outings or at private engagements—people take notice of what she's wearing, from head to toe.
This September, YES!Magazine selects over 130 photos from Gretchen's personal laptop to come up with an exclusive story on Gretchen, Diary of a Fashionista.
The photos in this feature are a delightful mix of La Greta's style files from her vacation and shopping sprees in New York, her various hairstyles through the years, her personal outfits during public appearances, her production-provided wardrobe in past movies, and her own wardrobe used in the prime-time starrer Magkaribal—the project that allows La Greta to merge her love for fashion and for acting.
The outfits are well-documented, not for vanity but for practicality, says her handler Bettina Aspillaga. Bettina, who took most of the shots, explains the setup in Magkaribal: "We need to document for continuity, so that we'll know the pieces that we've used for a specific scene."
As for her accessories, Gretchen lets YES! pick shots from her computer, where lie her extensive private collection of shoes, handbags, designer jewelry and luggage from international brands Chanel, Lanvin, Louis Vuitton, Hermès and Goyard, to name a few.
YES! also shows Gretchen wearing the pieces of top designers Inno Sotto, Jojie Lloren, Ivarluski Aseron, Gian Romano, and Mich Dulce, who share their thoughts on Gretchen's fashion sense.
Premier makeup artist and stylist Patrick Rosas, who has become Gretchen's friend through the years, says, "Gretchen knows how to dress up properly... [She] already has a beautiful canvas. All I have to do is enhance her."
Inno Sotto agrees. "She's a star. I can make her wear a sando, something cut out like a sando, and it will look good," the equally iconic designer tells YES!
In addition, the September issue of YES! has a 13-page special that gives a glimpse into the personality of President Benigno C. Aquino III, or simply "P-Noy." The special features photographs from the day of his inauguration as president and the subsequent street party in Quezon Memorial Circle to celebrate his victory.
Then YES! talks to the people close to and around the President, as they share varied anecdotes that, put together, paint a picture of the man behind the presidency.
An Aquino relative, Maria Vargas Montelibano, notes that P-Noy is indeed his mother's and father's son. She refers to him as "Cory and Ninoy incarnate" and tells YES! magazine: "The Ninoy DNA is so strong that there are times I am moved to tears when he acts or sounds like him."
The September issue of YES!—which also features the life story of Pilipinas Got Talent winner Jovit Baldivino and the condominium unit of Jake Cuenca—is available in newsstands, bookstores, and supermarkets nationwide. A digital edition of YES! is also available for international subscribers, CLICK HERE for more details.
YES! Magazine is the print affiliate of the Philippine Entertainment Portal (www.pep.ph).