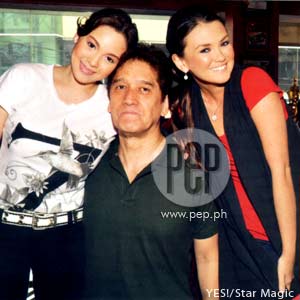 Once upon a time, there was peace. Mr. M is flanked by Claudine (left) and Angelica (right) on February 2009, in celebration of his 62nd birthday.
Photo: Courtesy of YES! / Star Magic
Angelica Panganiban's silence is deafening.
Claudine Barretto has called Angelica a "traydor na kaibigan," "isang daga na tago ng [sic] tago," and somebody "[na] baka masunog pag pinag pray over."
Repeatedly invoking "lord" and "god," while summoning "karma" in both small and capital letters, Claudine has vowed, before Twitter, to bring Angelica to heel: "i'll make sure you will never forget me and everything ive done for you!!!"
Alternating between sly putdowns of Angelica ("...if pakakasalan ka????") and sweet missives to tweet mates ("tweethearts thank u...sana ma hug ko kayo..."), Claudine racks up 21 tweets within a period of 17 hours and 47 minutes.
All 21 tweets of the Born Again Christian are dedicated to one cause: the exactment of punishment on Angelica.
But lest Angelica miss the point, Claudine throws this broadside (written as is): "di pa tapos to you cannot forever hide.god knows and see's your heart n soul"
Claudine's tirades—unleashed the first week of August on Twitter, escalating towards month's end after she gave Angelica's name to the showbiz press, and edging toward a different level during the same period with her grave threats to Angelica's life—comes from the 31-year-old star feeling quite righteous and aggrieved.
Indeed, Claudine's accusations against Angelica are of no small issue. She accuses Angelica of spreading the rumor that she, Claudine, is having an affair with someone whom Claudine herself names as one Martin Castro.
This is the first time the public hears about the rumor, and also the first time that the non-showbiz fellow's name is connected to Claudine's, thereafter to be released in the media.
Claudine has been married to fellow actor Raymart Santiago since March 27, 2006. They have two children, an adopted girl aged six and a boy aged three. Raymart and the non-showbiz fellow Martin have been friends for just under two years. Their common bond is that they each own a Porsche, and have friends who do, too.
In the same PEP interview, Claudine says that what first sparked her anger was Angelica telling dinner guests stories about her sister Gretchen giving inappropriately expensive gifts to Angelica's boyfriend Derek. Claudine says those guests told her right away. Their dinner hosts are Martin Castro and his wife Cris.
Angelica and Gretchen did have a brief falling out three months back over Gretchen's "naughty" remarks concerning Angelica's boyfriend Derek Ramsay, who co-stars with Gretchen in an ongoing fashionserye. The girls have since patched up.
Meantime, Claudine and Gretchen, although both children of Mike and Inday Barretto and both reared in the world of showbiz, seem to have a harder time with reconciliations. They have not spoken to each other since March.
Since then, Claudine has announced to the press that there's no stopping her in her mission to drag Angelica to court for slander or libel. She has mentioned September as a possible date.