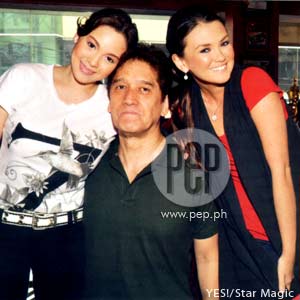 Once upon a time, there was peace. Mr. M is flanked by Claudine (left) and Angelica (right) on February 2009, in celebration of his 62nd birthday.
Photo: Courtesy of YES! / Star Magic
Asked what she does, she answers, "Housewife." But in our second conversation, she says, "My sister tells me, 'Why do you say you're a housewife?' Actually, I help Martin. I'm very busy running around. That's why I wasn't in the birthday party of Claudine, where Martin's picture was taken. I'm too busy to party."
Of late, Cris—full name: Maria Cristina Romero-Salas Castro—has been particularly busy. Her side of the family ("Martin is in it too!"; so is Derek) is opening the LifeScience Center for Wellness at The Fort this November.
I ask about the venture. She says it's located at the ACCRA Law Center building, and it has all the needed elements for wellness—nutritionists, doctors, oxygen drips, regenerative meds. But the special thing it has, she enthuses, is that the vitamins will be tailored to individual needs and wants by the center's doctors and nutritionists. "It's not the same vitamins for everyone! We're the only one with this!"
Cris, a University of Sto. Tomas graduate, will be a director in this family business. "I'm really not a simple housewife," she laughs.
MARTIN'S PERSONALITY. Cris attempts to explain how Martin's name may have gotten dragged into this.
"My husband is kinda the same as Derek," Cris says. "He's makulit, very honest, very friendly. He's a very accommodating friend. Maybe he gave Claudine the wrong impression—that he's too available.
"Sometimes, Claudine calls 30 times a day!" she says, not quite indicating if it bothers her.
"But Martin really makes himself available to friends," Cris continues. "That time when Derek left home, many years ago, he stayed with us—and he stayed three months! We're that open. That's how accommodating my husband is. Martin is that kind of friend."
Describing her husband further, she says, "He's a clown. He's always making people laugh. He's a real person. If you need him, he'll be there!"
But Martin is a proper guy, Cris makes clear. "Martin never goes there to Claudine's place unless there is someone there. Somebody's always present. I know that for a fact."
And Claudine is a proper girl, Cris believes. "I don't think she's that kind of girl. Claudine never gave me that impression. They weren't an item."
And her reading of Claudine's husband? "Raymart is like me. He just lets Claudine go on. He's a private person."
"ADDICT." Talk about extramarital affairs is bad enough, but the word "addict" mentioned in connection with her husband's name gets her angry, Cris admits.
"Martin is feeling bad about all this talk. Addict is a bad word. It's good that it's something that he's not! I know he's not. And that's too personal, that's below the belt!
"Especially because Martin is really payatin! Ever since I met him, he's been that way. As a teenager, he was just always skinny. He has an uncle with the same body type. He eats eight times a day, but Martin just doesn't get fat at all!"