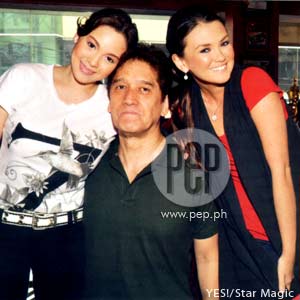 Once upon a time, there was peace. Mr. M is flanked by Claudine (left) and Angelica (right) on February 2009, in celebration of his 62nd birthday.
Photo: Courtesy of YES! / Star Magic
"I'm not blaming Claudine," Cris says diplomatically, "but I didn't expect things to get out of hand like this."
Cris recalls her last communication with Claudine was "a couple of weeks ago." In that conversation, she says, "Claudine was explaining what Kris Aquino told her. But I didn't want to listen. It's that he-said-she-said thing again, and I'm not in the loop with those things. When she called again a few days ago, I didn't take the call anymore."
She adds, "I told Claudine I didn't believe the talk. It's not a big deal to me. Why should she mind? She said it could ruin her career. I think she's blowing it out of all proportion.
"As far as Angelica and Derek are concerned, this has ended a long time ago. It's really up to her [Claudine]. From her side, I wouldn't know what she's thinking."
Then Cris says, "A rumor is a rumor, but she put a name to a face. It's different when you do that."
DEREK'S FRIENDSHIPS. Cris also recalls Claudine saying in the PEP article that Angelica is out to ruin Derek's friendships. That's supposed to be the reason why Angelica is saying these ugly things about Martin.
Cris dismisses this right away: "Martin and Derek have been through so much, been friends for so long, that something like this cannot get in the way of their being friends. Angelica wouldn't get in the way of this friendship."
Again with a laugh in her voice, Cris says, "Angelica, we've known longer than Claudine. There's been no rift in all this time, she's never affected us in this way. But Claudine, in just a couple of months...
"Martin met Raymart a year or so ago. They're close friends. I just recently became close. But ever since we met Claudine, our lives have done a whole 360!"
She still sounds upbeat. But admittedly, some things have changed—particularly for Martin, Cris says. "Martin doesn't know how to place himself. He's embarrassed by this because Raymart is a friend. He's uncomfortable.
"He's already stayed away, doesn't call her, doesn't take her calls. He calls Raymart. He and Raymart have talked about it. 'Pasensiya ka na,' he told Raymart. Raymart said, 'Wala iyon.'"
What about her? She didn't take Claudine's last call. Is she sorry she got close to Claudine?
After a pause, Cris says, her voice brisk, "Yeah, I guess. I don't need that noise in my life."