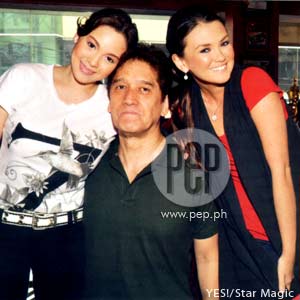 Once upon a time, there was peace. Mr. M is flanked by Claudine (left) and Angelica (right) on February 2009, in celebration of his 62nd birthday.
Photo: Courtesy of YES! / Star Magic
She laughs aloud and says, "That's right! I don't make a big deal of things. I say, if you're okay with it, I'm okay with it. I'm too busy to pick on little things. I'm busy. I go to the States a lot—my mom is there, my daughter goes to school there. I do things."
THE BIG QUESTION. Claudine has said there are rumors linking her and Martin, I tell Cris. Has she heard those rumors?
"I only heard them from Claudine! She's the one telling me. She said she investigated," Cris answers straight.
She says she also said to Claudine, "I said, 'What do you care? You know it's not true. I know it's not true. What do you care?'
"I told her, 'You're not having an affair with my husband—so why should you be putting so much energy into this?' But Claudine can't let it go. I don't know why she won't let it go.
"Claudine told me she did not invent this. I told her, 'I don't care, and you shouldn't care. You have Raymart, you have your kids, your career. Why should you care? You can't find time for any of this!'"
To PEP, Cris says categorically: "I'm Martin's wife. I should know if there's an affair. It's not true! All this talk, it doesn't matter. I don't care about talk."
If there are indeed rumors, who can be spreading them? Does she believe Angelica has something to do with this, as Claudine claims?
"I don't know if there are rumors. Claudine says there are. Who's spreading them? We will never know, we will never know. Claudine may have made it up, I'll never know, and it doesn't matter. It's not true anyway!"
Has she ever spoken to Angelica about the rumors?
Her quick reply: "No, I don't need to. That's how relaxed I am."
She does muse, "But Claudine shouldn't have mentioned our names. We're private people. Before this, no one connected our names to this! I had no idea our names had been mentioned.
"My friends just called and said, 'You're on the Net!' They gave me a link, and so I saw it [PEP]. We're being talked about. Our kids will see this. Claudine shouldn't have mentioned us. Like I said, we're private people."
Cris and Martin Castro have been married 16 years. They have two children, a 17-year-old girl and a 12-year-old boy. Asked what Martin does for a living, Cris answers, "Martin owns some restaurants, and builds houses."
Asked what she does, she answers, "Housewife." But in our second conversation, she says, "My sister tells me, 'Why do you say you're a housewife?' Actually, I help Martin. I'm very busy running around. That's why I wasn't in the birthday party of Claudine, where Martin's picture was taken. I'm too busy to party."