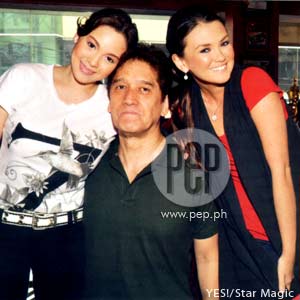 Once upon a time, there was peace. Mr. M is flanked by Claudine (left) and Angelica (right) on February 2009, in celebration of his 62nd birthday.
Photo: Courtesy of YES! / Star Magic
"Oh," I say, "what did we get wrong?"
"Ah, no," she laughs, her tone friendly. "Just that I read that Claudine and Raymart were, like, special guests? The dinner was for everybody, for our friends. It was not for anyone in particular, just all our friends. Claudine and Raymart were also there."
Interrrupting herself, she says, "The first thing I need to explain is that I'm not so close to Claudine. I can't judge her. It's my husband who's close to Claudine and Raymart. I'm not."
She adds with a small laugh, " I don't get crazy like an alalay because somebody is an artista. I'm just me. Of course, we're very close to Derek [Ramsay], but we don't treat him like an artista in our home."
She says, "Martin and I have been close to Derek 12, 13, years. Derek is a very good friend, even to my kids. He's their father, their best friend. He's a very honest man." Cris is 34. Martin is 38. Their friend Derek is 32.
Cris admits that, even with Angelica, she still has to get close. Certainly, being Derek's girlfriend of three years, they've met her. They've even gone on trips to Subic together.
"I'm not close to Derek's girlfriend, Angelica, either. But we've spent more time with her than with Claudine. We've gone out maybe a dozen times. We've had long weekends together—Derek, Angelica, Martin and me. But she's very shy, doesn't speak much, doesn't speak at all," she says with a laugh in her voice.
"So I'm not close to Claudine, and I'm not close to Angelica," she clarifies.
What of the July 24 dinner? How was Angelica? I ask.
"Angelica came to the party with Derek. They came late and they left early. She was uncomfortable, I think, because there were people she didn't know, so she wasn't talking much. But she was fine, just quiet. Not dabog at all, like it said in the article. No, nothing like that. She had a smile on her face!"
Cris gives her impression of Angelica. "Angelica—she's very shy, very quiet, very honest. I mean, the way she says things—she's straight. But she hardly speaks. And that night, she wasn't talking to anybody. She was beside Derek the whole time. She couldn't have said things like 'Gretchen gave Derek gifts that were so big' to the other guests. We would've heard!
"We were all together in one dining room. Me, Derek, Angelica, my sister, Martin's mom, Claudine... We would've heard! The others were in the garden, Raymart, Martin... I didn't hear Angelica say anything about Gretchen giving gifts to Derek. I don't even remember hearing Gretchen's name. In the first place, if you know Angelica, she's very careful. She hardly speaks!"
Recalling the evening, Cris says, "It was Claudine who was talking a lot. I guess she's very comfortable with us. Claudine is very friendly. She's a good conversationalist. She gets comfortable right way. She's loud. She's the kind who wants people to know she's there. Maybe, she's used to the attention. We give it to her."
Cris's tone is upbeat. Her language, predominantly English, is idiomatic, light, funny. There is little drama in her voice. It's clearly a voice that doesn't change moods fast or often. It stays upbeat long.
That is just my reading from a phone conversation, so to make certain, I ask directly: She's the kind to let things slide, would that be right? How is she about fuss?