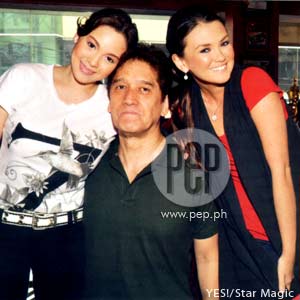 Once upon a time, there was peace. Mr. M is flanked by Claudine (left) and Angelica (right) on February 2009, in celebration of his 62nd birthday.
Photo: Courtesy of YES! / Star Magic
Yet, through all this, nothing from Angelica.
Even Gretchen Barretto has spoken and cleared Angelica.
Still, where is Angelica?
Not surprisingly, pockets of the public have begun to insinuate that Angelica must be guilty. All that's needed for her to clear her name, they opine, is a sentence or two. And yet, nothing.
Can it be guilt, as Claudine trumpets? Or is Angelica's silence like the proverbial calm before the storm?
On the last week of August, Johnny Manahan, a.k.a. Mr. M, the titular head of Star Magic, issued this statement on behalf of Angelica: "The only reason Angelica has not come out to defend herself against Claudine's accusations is because what she has to say could ruin Claudine's career. That is why she has chosen the path of silence. Angelica still has compassion for Claudine but rejects all the falsehoods attributed to her."
For her part, Joji Alonso, Angelica's lawyer, sent this text message to PEP. It is the same message sent to a television talk show in late August:
"Angelica has been advised to maintain her silence. There is no need for her to say anything, more so in reaction to what has been said. She has not done anything wrong, much less maligned Claudine. On the contrary, it is Angelica who is being maligned by these unfounded accusations.
"Neither is there a need to dignify this incident by saying more than what has already been said. Whatever more is said against Angelica, shall be the cause for the filing of the appropriate civil and criminal cases."
And so, we do not hear Angelica's voice—for now.
MRS. MARTIN CASTRO SPEAKS. As Claudine tells it, everything unravelled during the July 24 dinner hosted by the couple Martin and Cris Castro.
Claudine says she and Raymart are guests, especially invited to come and take a look at the Castros' renovated garden, and to partake of a meal cooked by no less than Martin's mom, who, Claudine tells PEP, has particularly asked to meet her.
At the dinner, Claudine goes on, Angelica arrives already in a foul mood. She is with Derek. But it is when Angelica starts badmouthing her sister Gretchen to the other guests that, Claudine says, she confronts Angelica. Their relationship goes downhill from there.
Claudine's story is uploaded in PEP on August 26. The following day, I receive a text message from Cris Castro, who says she wants to speak with me. This is followed by a call soon after. Eventually, we have two phone conversations, one on August 27 and another on August 30.
Cris introduces herself as the person mentioned in PEP, and says the other person mentioned is Martin, her husband. "I want to correct a few things about the dinner," she begins.