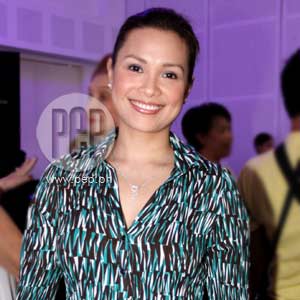 "Be open, [don't] close yourself off and say 'yes' to blind dates because you'll never know, " says acclaimed international singer Lea Salonga on finding "the one."
Photo: Noel B. Orsal
Filipino international singer and Broadway actress Lea Salonga expressed excitement over the possibility that she could be singing at Ogie Alcasid and Regine Velasquez's wedding during an interview at the Town and Country Wonder Women Awards yesterday, September 14, at White Space, Makati City.
"I want to, but it is really up to them. If they say I'm singing at the wedding, then I get to sing at the wedding and I'm excited about that," said Lea, one of the Wonder Women awardees.
THE WIFE. Lea, herself, has been blissfully married for six years to Robert Chien. Asked how she found her true love, she replied: "True love is not something you find, it finds you. It is something that happens in its own time. It seeks you when you least expect it. That's how it happened to me."
She described how she met her husband.
"I wasn't looking for my husband then but, lo and behold, I was introduced to him. On our first date, I knew he was the one," said Lea.
Robert is a cousin of a fellow cast member of Flower Drum Song, the Broadway musical that Lea starred in 2002.
Lea and Rob met on a blind date. They tied the knot in January 2004 at the Cathedral of Our Lady of Angels in Los Angeles, California.
"It happens when you least expect it," Lea said.
She added, "I always give this piece of advice: Be open, [don't] close yourself off and say 'yes' to blind dates because you'll never know."
THE MOM. Lea and Rob are blessed with a daughter named Nicole. Asked if Nicole would be following in her footsteps, Lea exclaimed, "No, no! She is only four and I just want her to be four. That's all I want for her."
She said she didn't want Nicole to be in the entertainment business just because her mom is in it.
"I don't want her to be anything, or to feel any pressure that she has to enter [the business] or that I'm grooming her [to join] the business."
Lea may have other plans for her daughter.
"Like now, she is showing signs that she might be really good as a dancer. I mean, she's got beautiful lines and beautiful expressions, and long arms, long legs—she's tall.