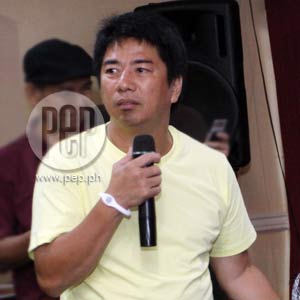 Willie Revillame's new show with TV5, Willing Willie, is supposed to premiere on October 23. But ABS-CBN has filed a temporary restraining order and a writ of preliminary injunction against the TV host to stop the launching of his new show.
Photo: Noel B. Orsal
ABS-CBN filed a petition with the Quezon City Regional Trial Court yesterday, October 4, to issue a temporary restraining order (TRO) and writ of preliminary injunction against TV host Willie Revillame, who will launch his new show Willing Willie on TV5 on October 23.
ABS-CBN filed the 38-page petition to stop Willie from appearing on the TV5 show while his contract with ABS-CBN has not yet ended. Willie, who is the former host of the hit ABS-CBN noontime show Wowowee, is still under contract with the Kapamilya network until September 2011.
The Kapamilya network also asked the court to prevent Revillame from "appearing or using his name, voice or likeness, directly or indirectly, for promoting any product or service in print, radio, or television or any form of advertisement and committing any act which jeopardizes the success of the program or which may affect the good name and goodwill of ABS-CBN."
In the petition, ABS-CBN asserted that Revillame cannot appear in TV5 because he is bound to comply with his current obligations under the agreement he signed with the Kapamilya network.
ABS-CBN stated that Willie had already signed up as a talent of Associated Broadcasting Company, or TV5, even though his contract with ABS-CBN has not yet been rescinded. His contract with TV5, ABS-CBN pointed out, gives Willie the chance to create and perform a program "similar" to Wowowee.
It added that Revillame inked the deal with TV5 even if the Court has not released a decision on the "Judicial Confirmation of Rescission of Contract with Damages" case that he filed against his former network last August 20.
"Revillame's actions show that he has decided for himself that he can do as he pleases despite the Honorable Court's taking cognizance of the issues," ABS-CBN stated in the petition.
According to ABS-CBN Corporate Communication head Bong Osorio, the Kapamilya network was left with no choice but to ask the courts to intervene because Revillame chose to ignore his contract with them.
Osorio said, "The issue on Willie Revillame is all about honoring a contract. To ABS-CBN, it is not only the ethical and right thing to do. It is a noble act of a person or a company that values honesty and integrity.
"These values are reflected in the way we do business in ABS-CBN. We honor what we say and we expect our people, talents and partners to reciprocate the trust and honor we give them.
"If a person or company gives honor and respect to a contract, conflicts can be avoided. Just like in a family, do you walkout simply because your attention was called?"
The immediate chain of events leading to Revillame's departure from ABS-CBN began on May 4, when he publicly threatened the network with his resignation from Wowowee if the network's management would not kick out showbiz commentator Jobert Sucaldito. (CLICK HERE to read related story)
Revillame was not seen in Wowowee after May 4. On July 31, Wowowee was replaced with Pilipinas, Win na Win!
On August 9, Revillame hosted a press conference to announce that he was leaving ABS-CBN. (CLICK HERE to read related story.)