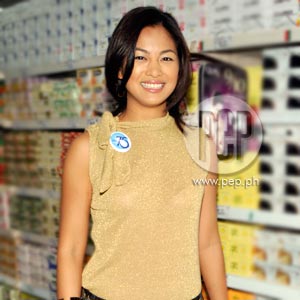 Miriam Quimbao admits she misses being in a relationship but says that her prayer is to meet the man who will be her life-long partner: "Lord, kung hindi ito, wag na lang."
Photo: Allan Sancon
"I'm actually enjoying my relationship with God 'cause I also turned Born Again [Christian].
"And it's just a wonderful feeling because, if before, men were filling up my emotional void, Jesus is already doing that. I have no need for another guy to be able to do that, if [it's] only just to fill that emotional void."
However, Miriam said, she is still hoping to finally find the man who will be with her for a lifetime.
"But, hopefully, one day when I'm ready...when the time is right, God will give me that someone who will be with me for the rest of my life."
As a survivor of a failed marriage, Miriam related that her experiences in the past helped build her character as well as goaded her to achieve more.
She picks up the analogy of the rubber band: "For every challenge, for people who have gone really really low, parang ano 'yan e, parang rubber band yan, pag ini-stretch mo nang ini-stretch ang rubber band tapos pinakawalan mo, lilipad iyan nang mas malayo.
"Feeling ko na-stretch ako in terms of challenges in the past years—character ko, and sabi sa Bible, 'Character is built slowly.'"
She also picks up the analogy of a tree growing: "Kunwari, ang puno 'pag namumukadkad at namumunga, dahan-dahan 'yan e. Pero naniniwala ako na yung character-building, yung strength na na-build sa akin these past few years, eventually mamumunga iyan."
Miriam spoke seriously about her becoming a Born Again Christian.
"Na-inspire din ako kasi sa Bible, shinare sa akin. Isa din sa dahilan kung bakit ako naging Christian, I was so low down into the dump, emotionally, financially, mentally, romantically, lahat...
"'Tapos sinasabi sa akin ng friend ko [na] sa Jeremiah chapter 29:11, 'For I know the plans I have for you, plans to prosper you and not to harm you, plans to give you hope and a future.'
"Nung narinig ko 'yon, sabi ko, siguro nga may plano talaga sa akin, there's a reason kaya ko pinagdaanan ang lahat ng ito. And I don't know how it's gonna be, but I believe I'm doing it step by step now."
In a brief phone interview today, Miriam told PEP that she was born a Roman Catholic and was so for much of her years. But that when she joined Claudio in Hong Kong, she was "exposed to so many" beliefs.
"I got confused," she said. And to find herself again, she said she decided to go "back to basics," which she translated to mean becoming "a Born Again Christian."
SHOWBIZ CAREER. After her triumphant stint in the Miss Universe 1999 pageant held in Trinidad and Tobago—the closest the Philippines has come to the crown since Margie Moran brought it home in 1973—Miriam began a show business career.