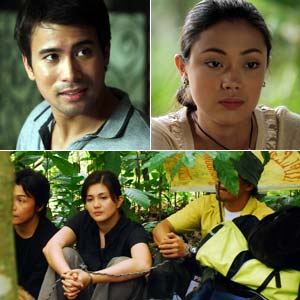 Sam Milby (upper left frame) is cast as a balikbayan in the indie film Third World Happy, while Jodi Sta. Maria (upper right frame) is cast as his girlfriend. Meanwhile, Mon Confiado, Dimples Romana, and Bombi Plata portray kidnapped journalists in Tsardyer. These films are competing in the 6th edition of the Cinema One Originals film fest that will run from November 10-16 at the Shangri-La Mall in Mandaluyong City.
Photo: Courtesy of Cinema One
Seven unpredictable stories from Luzon, Visayas, and Mindanao will be presented in an annual event that aims to showcase out-of-the-box storytelling.
For the 6th edition of the Cinema One Originals film fest, these films will be screened from November 10-16 at the Shangri-La Mall in Mandaluyong City. (CLICK HERE to view the screening schedule)
The finalists chosen from 100 submitted entries are: the Cebuano film Ang Damgo ni Eleuteria Kirchbaum by Remton Siega Zuasola; the social satire Astro Mayabang by JP Laxamana; the melodrama Third World Happy by EJ Salcedo; the horror-drama Dagim by Joaquin Valdes...
The Western-style action film Ishmael by Richard Somes; the true-to-life story of a Tausug boy in Tsardyer by Sigfreid Barros-Sanchez; and the family drama Layang Bilanggo by Michael Angelo Dagnalan.
This year's festival will also pay tribute to two filmmakers who are considered pillars in Philippine cinema: Celso Ad. Castillo and Lav Diaz.
Last year's recipient of the Cinema One Original Tribute award was director Danny Zialcita.
The awards night of Cinema One Originals will take place on November 14 at the Dolphy Theater, ABS-CBN compound, in Quezon City.
According to Cinema One Originals director for programming Ronald Arguelles, the next batch will feature ten finalists that will be given a grant of P1 million each.
Aspiring filmmakers have until January 14, 2011 to submit their screenplays. By March 2011, the finalists for the 7th edition of the Cinema One Originals filmfest will be revealed to the public.
AVENUE FOR GROWTH. During the October 26 press conference of Cinema One held at the ABS-CBN compound, many of the mainstream stars appearing in the film fest admitted that being part of these independently produced films give them an avenue to express themselves artistically.
Mark Gil pointed out exactly what this all means for artists: "Indie filmmaking brings a different level of freedom that artists like us hunger for. You give your heart and soul to your roles."
The veteran actor revealed that he and Ronnie Lazaro wrote most of the dialogue used in the indie film Ishmael. Mark is cast as a cult leader who sexually molests his own daughter Agnes (portrayed by Ria Garcia).
For his part, Ronnie did some action sequences for his roles as Ishmael, an ex-convict who resorts to murder in order to protect Agnes.
He told PEP (Philippine Entertainment Portal) in an interview, "I kill people like flies. Ishmael's hands were broken so he tied two bolos to his hands to serve as weapons. Tatlong balde ng dugo ang nagamit sa pelikulang ito!"
Sam Milby also considers working on indie films a way of honing his craft.