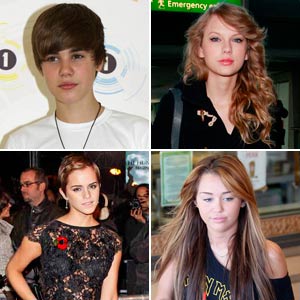 Justin Bieber (top, left) on the fans who cry when they see him: "I'm so honored that you're crying but, I don't know, it's crazy to me!"
Meanwhile, read the latest about Taylor Swift (top, right), Miley Cyrus (bottom, right), and Emma Watson (bottom, left).
Photo: Bang
With feeds from Bang, a London-based supplier of world entertainment news, PEP (Philippine Entertainment Portal) now gives you the latest news about Hollywood teens!
JAKE GYLLENHAAL thinks love is "blinding."
The 29-year-old actor, who is rumored to be dating country singer TAYLOR SWIFT, believes being in your 20s is the best age to fall in love because it is the first time people are getting to balance adult responsibilities with fun.
Speaking to E! News on the red carpet at the New York premiere of Love and Other Drugs, he said:
"Love is definitely blinding in your 20s. I don't know...It's just so great and so awesome.
"For the first time there is a seriousness to it because you have responsibilities in your 20s you don't have when you are a teenager. And so, you have to deal with those responsibilities.
"You know you can't just wonder out into nowhere thinking about how amazingly in love you are, you have work or college to deal with. So appreciate that, people who are in your 20s and in love!"
According to reports, Jake spent £100,000 flying in the "Love Story" and "You Belong To Me" singer Taylor to London while doing his Love & Other Drugs promotion in the UK last week.
A source said: "Jake wanted some quality time with Taylor. If he hadn't done this, they would have missed each other as he had to fly back to the US. He hired a jet which would have easily set him back £100,000."
EMMA WATSON, 20 years old, has had previous relationships with musician George Craig and financier Jay Barrymore, but has now asked her Harry Potter co-stars DANIEL RADCLIFFE and RUPERT GINT for advice in her relationships.
The actress said: "I'm single at the moment. Things are pretty quiet. Not much going on.
"When I was on the set with Daniel and Rupert, it was normally me who went to the guys with the questions about guys because I don't pretend to understand the male gender.
"I'm just like, 'What is going on here? What should I be doing? I don't understand.'