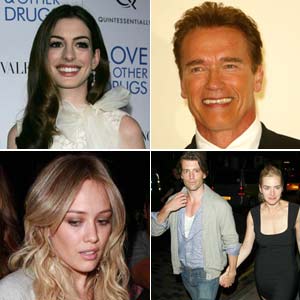 (Clockwise from top left) Anne Hathaway wants to be in Glee; California Governor Arnold Schwarzenegger is open to the possibility of returning to acting; Oscar-winning actress Kate Winslet breaks up with boyfriend Louis Dowler; singer-actress Hilary Duff admits to sending sexy photos to her husband to keep their marriage "interesting."
Photo: Bang
ANNE HATHAWAY is such a huge fan of the musical TV show Glee she has spent hours creating a character that she thinks writer Ryan Murphy should consider including in the series.
The Hollywood star wants to play the role of lesbian aunt of gay student Kurt Hummel, played by CHRIS COLFER.
Appearing on Late Night with Jimmy Fallon on Thursday (November 18), she revealed: "I would love to be on Glee.
"Can I make a confession? In my head I've written a part for myself in Glee!
"It's so arrogant and obnoxious, it's like, 'Ryan Murphy no one else wants to be on your show.' But in my head, I've cast myself and I know which song I'd sing.
"I would want to play Kurt's long-lost aunt, his mother's sister, who is also gay, who comes back to help him deal with his sexuality and I would sing 'No One Is Alone' from Stephen Sondheim's epic show, Into the Woods."
If the creators of Glee do decide to take up Anne's story idea, she would not be the first big name star to get a cameo.
Gwyneth Paltrow appeared as a Spanish substitute teacher in the episode which aired in the U.S. this week and will be a short-term character, while Britney Spears had a brief appearance in a show dedicated to her during the current season.
Speaking of GWYNETH PALTROW, she plays a recovering addict and country star in the new movie Country Strong.
She has asked Iron Man co-star ROBERT DOWNEY JR.—who has overcome substance abuse problems—for help so she could understand her character.
She said: "I asked Robert a lot of questions because there were some things that I just did not understand. Like, how do you behave so badly one night—and not just embarrass yourself, but wreck peoples' lives—and then wake up in the morning and be like, 'Hi!'
"I don't get it. So he would write me e-mails about what addiction is and how it was for him. He was very articulate about it and he helped me a lot."
The 38-year-old star—who has two children, Apple, 5, and Moses, 4, with husband Chris Martin—thinks she has managed to avoid many of the pitfalls of fame because she gets so much support from her family.
She told Hello! Canada magazine: "I think that what gives me strength is my family. They keep everything in perspective and they make me feel very grateful, which is how I stay with my feet on the ground. I know how lucky I am to have them and I don't take them for granted. They give me strength to get through everything."