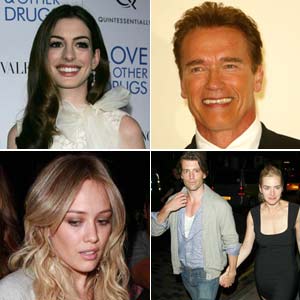 (Clockwise from top left) Anne Hathaway wants to be in Glee; California Governor Arnold Schwarzenegger is open to the possibility of returning to acting; Oscar-winning actress Kate Winslet breaks up with boyfriend Louis Dowler; singer-actress Hilary Duff admits to sending sexy photos to her husband to keep their marriage "interesting."
Photo: Bang
Harry Potter and the Deathly Hallows star RUPERT GRINT is a big fan of "disturbing" painters and admits he would have pursued a creative career path if his acting career hadn't taken off.
He said: "If it wasn't for Harry Potter I'd probably be doing art, because I've always been into it. I'm regularly drawing, painting, sketching or doodling. It's pretty much a hobby of mine.
"I quite like surreal artists, like Salvador Dali or Otto Dix. Otto's paintings are quite disturbing, which is probably why I like them!"
As well as enjoying art, Rupert—who plays Ron Weasley in the film series—also likes to play golf in his free time, and enjoys playing against his Harry Potter co-stars.
He explained: "I first got into golf because my dad and a couple of friends played it. A lot of the people on the Harry Potter set play golf, too, like the twins—James and Oliver Phelps—so I've played with them a few times. It's a really good way of chilling out."
Singer-actress HILARY DUFF, who married Canadian ice hockey player MIKE COMRIE in August after dating him for three years, is happy to send Mike intimate images of herself, but never is her face seen on them.
When asked by radio DJ Billy Bush if she sends Mike sexy pictures from her phone, Hilary replied: "Oh my God you're going to get me in trouble ... never with my face in it.
"We've gotta keep it fun, gotta keep it interesting."
Hilary isn't worried about anyone else seeing her body because she trusts her husband not to show the snaps to any of his friends.
She said: "He'd know better than to forward them on!"
While she admits to sending raunchy messages to Mike to help keep her marriage interesting, Hilary recently revealed she is still adjusting to their long-distance marriage.
The 23-year-old star spends most of her time in Los Angeles for work, while her sportsman spouse plays for the Pittsburgh Penguins in the NHL league.
She said: "Now he's gone and I'm like, 'No, you left me too soon! What's happening?' That kind of sucks. But we're used to that long-distance thing and we're going to figure it out. It means a lot of travelling for me this year, but that's OK."