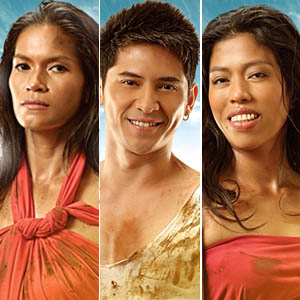 Survivor Philippines Celebrity Showdown jury members (L-R) Elma Muros, Ahron Villena, and Moi Bien.
Photo: Courtesy of GMA-7
The fans are asking: Will it be a bitter jury in the final Survivor Philippines Celebrity Showdown tribal council?
The die is cast and the final four who have the chance to outwit, outlast, and outplay each other for bragging rights to be called the first Survivor Philippines Celebrity Survivor are actress/mother Aubrey Miles, Brapanese model/actor Akihiro Sato, model/singer/stylist/budding actress Solenn Heussaff, and athlete/model Ervic Vijandre.
The jurors are Jon Hall, Aira Bermudez, Michelle Madrigal, Ahron Villena, Elma Muros, and Moi Bien.
Their votes will be read live by host Richard Gutierrez on Survivor's final telecast next Friday, December 3.
The first celebrity edition brought in new scenarios not experienced in the show's first two seasons where the castaways were non-stars.
Being celebrities, showing their "true colors" posed a risk. After all, when the game ends, they will have to return to the limelight and the audience of the top-rating reality show may remember them for the not-so-nice things they did and said on the island.
Hateful posts from social networking sites like Twitter, Face Book, and Pinoy Exchange—every day while the show is being aired—have already goaded some of these celebrities to defend themselves.
The social connections among three leading castaways—Jon, his current girlfriend Michelle, and his ex Aubrey—have made the game even more volatile.
Aubrey's chance to win this edition is now in the hands of the jury lead by Jon and Michelle.
Aubrey is recognized as the mastermind of the most potent alliance formed in the island—an alliance that got Jon and Michelle among the first booted out of the game.
Ervic's position will be as precarious, as he openly made his alliance with Aubrey from the start of the game. And from his role as henchman, more angry heads rolled.
Solenn, for her part, has to face two castaways, Mico and Elma, who trusted her as their close ally but were voted out in the end by Solenn. Aira, a third former tribe member back in Sar Mayee, might also be quite cold to Solenn when voting comes.
It seems that only Aki will be spared from any form of vengeance. But the question remains: Will the jury let a non-Filipino win the very Filipino counterpart- franchise of the most successful reality show in the world?
Will the jury vote from the head and give the prize to who played the game best?
Or will they vote from the heart and award it to who they personally want to see winning?